Beale in doubt for Rebels clash
March 30, 2016
via
Sydney Morning Herald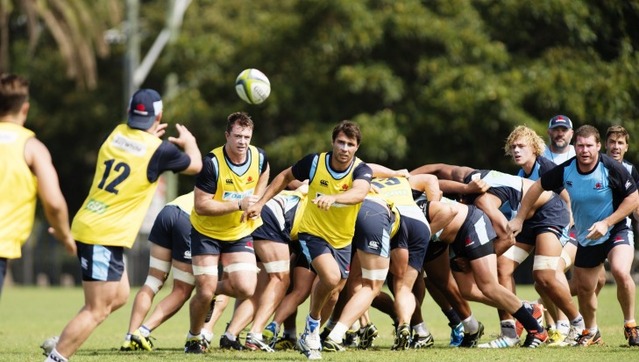 The Waratahs have been dealt yet another key injury blow with Kurtley Beale set to be in doubt for his side's clash against the Melbourne Rebels this weekend due to an elbow complaint.
Beale left Waratahs training on Tuesday 30 minutes early with a grimace on his face and clutching at his right elbow. Twenty-four hours later the backline utility arrived at training with an ice pack strapped to his arm and subsequently took no part in the contact session.
A Waratahs spokesperson said medical staff would monitor Beale's elbow throughout the week before their round-six fixture against the Rebels in Sydney on Sunday. Halfback Nick Phipps was quick to talk down why Beale was not out on the training paddock ahead of a game where he was expected to start at fullback.
"I think he's just resting up at the moment," Phipps said. "He's played back-to-back 80s [80-minute games] and I think they're just resting him today. He's got a niggly elbow, so I'm sure he'll be fine. It's something he's looking after like a few other things so let the old boy rest up for a bit."
With Rob Horne ruled out for four to six weeks with a fractured hand, the Waratahs had planned on moving Folau to a vacant outside centre spot, Beale back to fullback and David Horwitz into his favoured No.12 jersey. If Beale is ruled out, however, NSW would actually have less chopping and changing in the backline than if Beale played.
It is understood, provided Beale doesn't play, Horwitz will be a straight swap for Beale at inside centre and Folau will stay at fullback, meaning Matt Carraro could move into outside centre - a move Nick Phipps agreed could be on the cards.
"I think that's probably where he'd go," Phipps said of Carraro. "Then we're quite lucky we've got a few blokes like Jim Stewart who are itching for a chance [and] Andrew Kellaway [an] outside back. We'll be excited to give them that opportunity if Kurtley's ruled out."
If Beale's elbow injury is not as serious as first thought, Phipps believed the 27-year-old would be better suited to fullback than at No.10 or 12. "I think it'll be good for KB to get a bit more space, less structure in his head," Phipps said. "He's a bit more of that X-factor, let him run around and have a red-hot crack from the back there knowing full well that we've got some great players in 10 and 12 able to deliver him the ball."
Either way, the Waratahs backline will be tinkered with from the Reds game but Phipps was confident the constant fiddling would not prevent NSW from continuing their dominance over the Rebels.
"Ideally we'd like to have a set backline week to week, but we've copped a few injuries this year, which no doubt every team has, so we've got to adapt quite quickly," Phipps said. "It's quite lucky that everyone in the squad is able to slot in and so now it's a decision for Daryl [Gibson] and [Nathan] Gray[zie] and Nobby [Chris Malone] to put someone in there."
The Waratahs have been victorious in nine of their 10 previous games against the Rebels - as well as the last four - and have a chance to leapfrog Melbourne into second spot in the Australian conference even with a game in hand.
Phipps, who was with the Rebels between 2011 and 2013, warned his old club wouldn't be easybeats as in previous years and would relish the challenge of coming to Sydney and taking it to the Waratahs.
"They rise for this game-- I know being down there they love to play NSW," Phipps said. "A lot of them are from NSW. They played their junior footy here and a lot of their friends and family will be coming to the game, so if anything it will be a home game for them as much as us. They'll be looking to upset us-- it's going to be a tough game."
This article was written by Tom Decent from Sydney Morning Herald and was legally licensed through the NewsCred publisher network.