NRL: Nuuausala penalty vital as Titans overrun Raiders
March 26, 2016
via
Sydney Morning Herald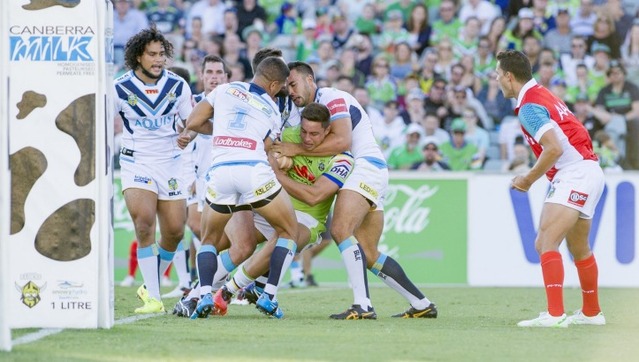 The referees were booed off the ground, but the Canberra Raiders refused to blame a contentious video referee decision for ending their unbeaten start to the NRL season ending after throwing away a big lead against Gold Coast on Saturday.
After a second half laced with controversy, incensed Raiders fans vented their frustration at officials after Titans centre John Olive was awarded a try with two minutes left to seal a 24-20 win.
Up 20-6 with 25 minutes left the Raiders looked set to leap to the top of the table. But after being lucky to escape after being run down in Newcastle last week, this time they played with fire once too often.
After consulting with his touch judge, Perenara gave a try call on-field to Olive before sending it upstairs to the NRL Bunker.
Replays attempting to show whether Olive grounded the ball were inconclusive, giving the referees no option but to award the try.
A brain fade from veteran prop Frank-Paul Nuuausala proved crucial. After Zeb Taia scored for Gold Coast to close the gap to 20-18 with four minutes left, Nuuausala was penalised for taking out Titans forward Ryan James running downfield from the kick-off.
The Titans made them pay, bringing back memories of the multiple times the Raiders squandered late leads at home last year.
It secured a third win in four matches for the surprise packet Titans, who were branded wooden spoon favourites before the season started.
Asked whether the current video system where on-field referees are forced to make a call is the best system, Stuart said: "It doesn't matter what I think.
"That's the rules and the process and what we've got to abide by, that's life.
"Henry Perenara is copping a lot of criticism from the crowd, but Henry was in no position to make a call on that, which I don't think he did.
"He had to come down to the left touch judge, so he's the one who obviously made the call.
"When the ball went over the line he was 15 metres behind in the in-goal area so he wouldn't have seen a thing.
"I didn't see the ball [touch the ground], the linesman obviously did. I didn't see the football, that's not to say it's a try or no try."
Titans coach Neil Henry was happy the rub of the green went his side's way, but admitted it could have been a different story had Perenara ruled no try before sending it to the video referees.
"While we're forced to make a decision on tries you're going to get that, you have to have enough evidence to overturn the on-field decision," Henry said.
"When you've got one angle late, the touchie called it and John Olive's adamant he got it down.
"But you're right, if it's ruled no try you probably go 'is there enough evidence to overturn that?'
"I'm glad it went our way."
There was more controversy in the second half with conjecture Titans prop David Shillington had gone onto the field from the bench too early after five-eighth Tyrone Roberts went off with a knee injury.
"Obviously the match officials will have a look at it and see what happens," Henry said.
"I reckon Shillo was on there about five seconds [when Roberts was], the interchange guy was supposed to sight it as far as I know.
For a veteran player, Nuuausala's clanger was the key moment of the game and Stuart said "we've spoken about that already" when asked his views.
The Raiders face a test of their mental strength to rebound before tough road games against in-form Canterbury and Parramatta the next two weeks.
Prop Jeff Lima will have surgery this week after breaking the second metacarpal in his left hand, but the news was slightly better for Edrick Lee, who has been cleared of a fracture in his thumb.
It adds to a casualty list already headlined by halves Aidan Sezer (eye socket) and Blake Austin (knee).
The video referee decision would have been irrelevant had the Raiders not conceded two extremely soft tries to Titans forwards Ryan James and former Raider David Shillington.
Shillington scored off when playing on quickly from a penalty ten metres out from Canberra's line to reduce the gap to 20-12, and the Titans grew in confidence.
"They were soft tries, you can't afford that in this comp if you think you're going to do something," Stuart said.
"It's been the same the last three weeks, getting away to good leads at half-time and not going on with it.
"The last three weeks have been a different result, but this weeks it's gone against us.
"We had the opportunity to win it earlier in the second half and we should have done it."
With hooker Josh Hodgson superb in the first half, the Raiders produced their best attacking 40 minutes of the year to take an 18-6 lead at the break.
A Jarrod Croker penalty goal extended the lead with 25 minutes left, but Canberra's inability to put the foot on the throat of teams when in control cost them again.
GOLD COAST TITANS 24 (Ryan James, David Shillington, Zeb Taia, John Olive tries; Ashley Taylor 3, Tyrone Roberts goals)
CANBERRA RAIDERS 20 (Jarrod Croker, Elliott Whitehead, Edrick Lee tries; Croker 4 goals)
at Canberra Stadium on Saturday.
Crowd: 11,039. Referees: Henry Perenara and Chris Sutton.
This article was written by Jon Tuxworth from Sydney Morning Herald and was legally licensed through the NewsCred publisher network.