Finally, eyes turn in a Single Gaze
March 26, 2016
via
Sydney Morning Herald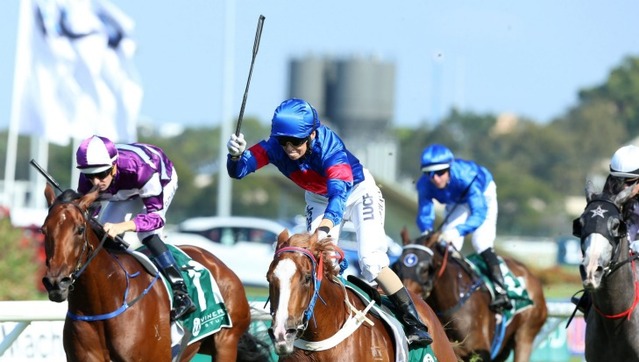 This one was for Canberra. And Gundagai too. But most importantly it was for Nick Olive. And Kathy O'Hara. When will people (hello, bookmakers) finally give them the respect they deserve?
They say behind every great man is an even better woman. That would be Olive's wife.
And then there is O'Hara, the jockey who stood high in the irons on Single Gaze so far out from the winning post you didn't need to be a regular racegoer to realise this meant something.
In fact, it was just her second group 1. Co-incidentally the other was also won at Rosehill in the autumn in a girls-only race (Ofcourseican in the 2012 Coolmore Classic).
Olive? It was group 1 No.1. And how he and his owners, including Marty Hay and Dave Tout - the top brass of Gundagai Tigers' drought-breaking rugby league side - enjoyed it.
"I'm numb, I'm absolutely numb," Olive said. "It's every trainer's dream to win a group 1, and it's funny, I've just been so relaxed all week and came here today so confident, I just didn't realise why no one wanted a bar of her. It's just everyone's dream and what you're in the game for is to win a group 1. It's unbelievable."
There was never any danger really. Single Gaze burst clear halfway down the running and O'Hara, who has now incredibly ridden seven of Olive's nine stakes winners, did the rest on the filly which became a rare million-dollar racehorse based in Canberra.
New Zealand visitor Valley Girl was three-quarters of a length back in second, with Happy Hannah a long-head back in third. But the little chestnut with the baldy face was all anyone cared to have a look at back in the mounting yard.
"She's just all heart," O'Hara said of Single Gaze, which won at 80-1 on debut at Rosehill and also raced in last year's Golden Slipper. "She's got so much ticker and I wish every horse was the same.
"I've just been working hard and keeping my head down, hoping the right horses come my way. She's so unassuming and come out of nowhere and won a group 1. I can't be any happier."
Same could be said of Gundagai Tigers' secretary/treasurer Hay, whose thoughts were immediately with his good mate Tout. The club's president was somewhere in a TAB in south western Sydney, hamstrung on a trip to watch his son Royce play for the Wests Tigers' under 20 side on Saturday.
"The Gundagai Tigers won our first competition for 33 years last year while we were at the helm and now we've won our first group 1, so the Tigers are in a happy place," Hay said.
"[Single Gaze's win] was the most exciting thing I've ever seen ... it was incredible. Nick and [Olive's foreman] Billy [Owen] were adamant she would run the 2000 metres.
"Kathy told us to take the blinkers off. She said, 'if you take the blinkers off she'll run the 2000 metres on her ear'. Special mention to Billy who does everything with her, riding her in trackwork and strapping her."
The Australian Oaks? Nah, that decision can wait for later. There's a party to be had. "It will be big," Olive laughed.
Maybe then people will start taking notice.
This article was written by Adam Pengilly from Sydney Morning Herald and was legally licensed through the NewsCred publisher network.