2
World's premier orienteering competitors converge on Canberra
March 25, 2016
via
Sydney Morning Herald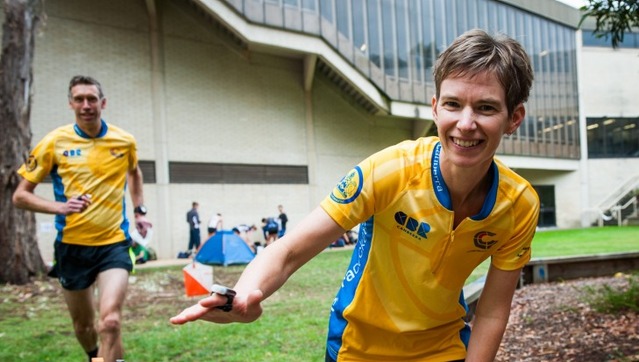 Easter Egg hunts promise the lure of chocolate, but almost 1000 competitors will be scouring the bushland of Canberra over the next three days chasing orienteering gold.
More than 700 entrants from interstate and overseas will join 200 from the ACT at the Australian 3-Days orienteering carnival from Easter Saturday to Good Monday.
Australia's premier multi-day orienteering event got underway on Good Friday with a prologue around the University of Canberra.
The competition begins on Easter Saturday with a challenging 6.8km course for men and a 5.8km course for women at Issacs Ridge.
That's followed by the most demanding stage of the event - up to 14km for men and 9.5km for women near Captain's Flat on Easter Sunday - before finishing with a middle distance course back at Issacs Ridge on Easter Monday.
Canberra's Rob Walter, 40, is a five-time champion having been unbeaten from 1997 to 2001, but knows the competition will be fierce.
He is aiming for a top-10 finish and is hoping local knowledge works to his advantage.
"It's a bit of fun for me now, it's not so serious," Walter said.
"I still run in the elite class and like to give the younger guys a run for their money and to keep them honest.
"On a good day I can get up near them on the long races, I do a bit more of the ultra-running, trail-race type things now."
Fellow Canberra Kookaburras competitor Jo Allison, 39, has four national titles to her credit.
"My last two years my expectations aren't quite what they used to be," Allison said.
"Since I've had children, I don't put the same amount of time and effort into my training.
"Fifteen years before that time I trained pretty hard so I rely on that base a fair bit."
It's the eighth time Canberra has hosted the prestigious event since it was first staged in the ACT in 1978.
Competitors have travelled from as far away as Norway, Slovakia, Denmark, Great Britain, France, Sweden, Switzerland and New Zealand.
"We've always had this national competition over the long weekend at Easter, so I've always associated this time of year with a fun and special event," Allison said.
"For the elite class, it's a national league event, so we have a competition among the state teams.
"It's usually a pretty tight competition."
Walter is looking forward to the longer race on Easter Sunday to make his move on his rivals.
"That suits me the best, I like that sort of terrain where it's not super technically difficult, but it's tough running," Walter said.
"If you're strong and good at running the forest, you can go well there."
The Prologue on Good Friday was a sprint distance event of 3.8km for men and 3km for women. Shannon Jones won the women's event while Matt Crane was victorious in the men's prologue.
Orienteering Australia will also have its inaugural Hall of Fame at its awards dinner on Sunday night at the The Tradies Club in Dickson.
Canberra's Grant Bluett and Jenny Bourne, formerly of the ACT, will be among the athletes inducted.
This article was written by Lee Gaskin from Sydney Morning Herald and was legally licensed through the NewsCred publisher network.