3
Carlton pushes for women's team
March 30, 2016
via
The Age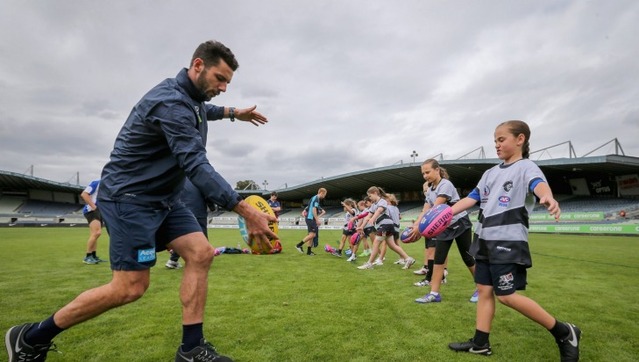 Carlton continued their push for a women's team in 2017 as they launched a girls' skills development program on Wednesday.
The Blues want to win the AFL's permission to field one of the eight women's teams that will form the new league, which will kick off in 2017.
The Northern Football League Girls' Football Development Program will aim to improve the skills of young players in the area.
CEO Steven Trigg said Carlton should be a front-runner for a women's team because they had shown a genuine engagement over a period of time.
"We've been authentically involving ourselves, not just with the northern footy league now but previously and with AFL Victoria in terms of developing pathways for girls and use of facilities and the expertise that we have," he said.
After taking last years' wooden spoon, Carlton officials openly speak of being in a rebuilding stage, so it came as a surprise to many that they lost to Richmond - a team that made last years' finals - by just nine points in round one.
Trigg said the relatively strong performance had proved helpful to the club's membership figures and corporate relations.
He said he had seen vast improvement in the team, but was still disappointed with the loss.
"If you'd said to me before the game we would win the inside 50s, we'd win the contested ball, win most of the metrics that would see you win the game of footy and play a really strong and attractive brand of football, I would have taken it," he said.
"But when you get within nine points you want to win it."
Despite the recent controversy over a report that "up to 11" Collingwood players had tested positive to illicit drugs during the off-season, a claim the club has denied, Trigg did not think clubs should have the right to know more about their players' use.
Under the league's new policy, players undergo hair tests for illegal drugs in the off-season but the results are used only for statistical purposes.
The clubs are not told which players returned positive tests and it is not recorded as a strike against their names, although they will be targeted for further testing.
"We are 100 per cent supportive of the new policy ... it's a really good policy, it is in fact a zero tolerance policy," he said.
Clubs have until April 29 to make their submissions to the AFL for the right to have a women's team.
The development program, which is open to girls aged eight to 18, offers six free skills development sessions during the 2016 school holidays.
This article was written by Larissa Nicholson from The Age and was legally licensed through the NewsCred publisher network.