Artist of the Week: Big Sean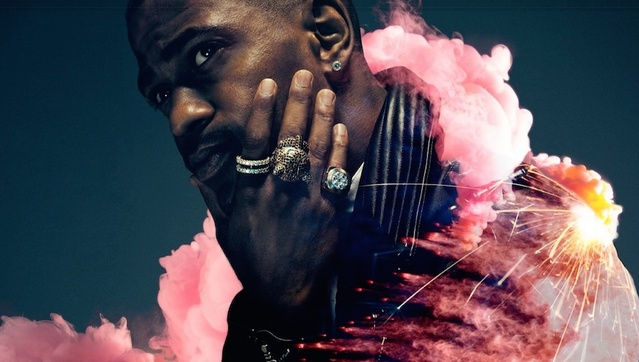 Adversity and heartbreak are the main ingredients for cooking up a comeback. After a promising debut album, Big Sean's momentum slowed. Burned by relationship issues and a lackluster second album, Sean realized his career needed a boost. Instead of crying out for help, he locked himself in the studio and ventured over to the dark side.
Big Sean's decision to go deeper and darker on his third album Dark Sky Paradise helped land him a number one album on Billboard, a first for the young Roc Nation rapper. His first single "IDFWU" became a radio smash. Instead of penning four-page love letters, kids jumped on Sean's infectious single to stroke their egos and cope with their own breakups. In addition to his boisterous single, Sean's album features a variety of tracks showcasing his versatility. "All Your Fault" finds Sean and his mentor Kanye West going back and forth line for line. On "One Man Can Change the World," the Detroit rapper expresses his gratitude for his grandmother, who recently passed. With the release of Dark Sky Paradise, Sean is a step closer to rap supremacy.
With a new outlook on life, the 26-year-old is working on not only establishing a career worth standing the test of time, but a life that entails love and happiness. We sat down with Big Sean to discuss his first number one album Dark Sky Paradise, his favorite punchline of all-time, his greatest blessings, and which Michael Jackson song he wants to remix. Get to know him below.
Congrats on Dark Sky Paradise going No. 1. What was the feeling like when you found out?
I've never had an overall No. 1 album. It was a very big deal for me. I'm super thankful man. That was a big week. A lot of artists came out that week, including one of the biggest artists from my city, Kid Rock.
What changes were made in the writing and creative process for this album in comparison to Hall of Fame?
I'm just a different person. In the process of this album, I was going through so much. I really needed an outlet to let my stress and aggression out. Songs like "Paradise" were therapeutic for me. I was able to get a lot off my chest. I caught a vibe and I knew exactly what direction I wanted to go. I knew the artists that I wanted to have on it, the producers, and everybody was down for the cause and the vision.
I made the whole album in my house. I built a studio and I put a lot of money into it. I'm glad I stuck to my gut and followed my heart. That's the thing I'm most proud of.
Let's take it back in time, how did your friends and family first find out about your rap skills?
My mom was the first one I rapped to. I was nervous. (Laughs) It was cool though.
How old are you when you first wrote and recorded your first song?
I was 12 years old.
Do you feel you're at the apex of your career lyrically?
I feel like there's still room to get better. I don't think I'm at the pinnacle of what I'm going to do as an artist. I do feel like this album is a great step in that direction. I'm just happy that people are seeing my progression as a person and as an artist.
One of our personal favorite tracks on Dark Sky Paradise is "One Man Can Change the World." In what ways do you feel you can change the music industry if you feel you haven't already?
You know, you don't change the world intentionally. You do it naturally. I'm hungry, I'm focused, but I wouldn't have ever thought people would feel how they feel about "One Man Can Change the World." I never really thought people would feel how they felt about "IDFWU." I didn't really realize it would become a hashtag or a pop culture moment. I really feel like I have guardian angels. I meditate almost every morning. I'm not alone in it. I'm definitely somebody that's spiritual and believes in a higher power from a higher source.
That leads us to our next question. You have the record "Blessings" with Drake and Kanye West. What are three things you feel most blessed to have in your life?
I'm blessed for my health. I'm blessed for my family. I'm blessed for my friends, my girl and my fans. All those people are family, you know? I'm thankful for the opportunities. It could have gone either way for me. I really do believe that we control our own destinies.
It's been four years since you first released Finally Famous. How has the Detroit music scene changed?
I mean, it's way more popping now, you know? (Laughs) I think the city has been through so many ups and downs. No matter what it maintains a sense of hope, and a sense of bossing up and being great. That's not just from Motown. That goes for J Dilla and Slum Village. That goes for Eminem, Royce da 5'9", and D12. It feels good to be a part of that and the new generation. I'm a fan of the city; I support it all the way. There are artists like myself, DeJ Loaf, Danny Brown, and other people who aren't known like Dusty Mcfly, Earlly Mac, and the list goes on and on. Our city has talent. So I'm gonna shed as much light as I can on the city.
We loved how you flipped Beyoncé's "Me, Myself, and I" record. Now we know you're a big Michael Jackson fan. If you were going to remix any Michael Jackson records, which ones would you remake and why?
"Billie Jean." I think the story was so dope. I just remember the video and thought it was amazing. That's my favorite Michael Jackson moment.
This article was written by Carl Lamarre from Pepsi and was legally licensed through the NewsCred publisher network.