Free the Animal: How Sia Became Pop Music Royalty on Her Own Terms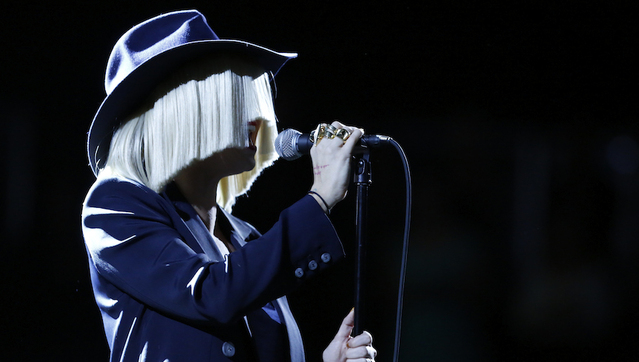 Photo by Trae Patton/Getty Images
When Sia first burst onto the scene—blond-wigged, face-obscured, mysteriously-mononymed—it may seem like she arrived from an alternate dimension where she was already the biggest pop star in the world. But the Australian singer has actually been a culture-driving force for years—albeit behind the scenes. The 39-year-old singer-songwriter has co-written hits for Beyoncé and Rihanna and consistently released her own brand of experimental pop music since the late '90s.
But now, with her first solo smash, "Chandelier," and a song-stealing guest vocal on Kanye West's "Wolves," Sia has finally shown the world what the music industry has long known: that she's one of the most creative and daring artists in pop music today. Read on as we recount Sia's biggest moments, from her early years as a UK backup singer to her wonderfully unorthodox GRAMMY performance starring Kirsten Wiig.
From Oz to England
Before Sia was "Sia," she was Sia Kate Isobelle Furler, an aspiring singer from Adelaide, Australia. As a kid, Sia started performing early, with support from her creative family. (Her father was a musician himself and her uncle was a member of the Australian pop band Men at Work.) Sia's early career started with a short stint in the Australian acid-jazz band Crisp, whose two albums Word and the Deal and Delerium were modest local successes. In search of a larger stage, however, Sia took off for the UK and, in the late-'90s, began singing backup for Jamiroquai and Zero 7. Still, it would be fifteen years before she would become a household name.
A Burgeoning Solo Artist
Though Sia already had strong aspirations for solo success (her single "Taken for Granted" hit number 10 in UK), her U.S. career was slow to take flight. She continued to work with the Zero 7, with whom she recorded three albums, and began gaining recognition on her own terms. Her song "Breathe Me," from her third LP, Colour the Small One was used in the series finale of the HBO show Six Feet Under and her fourth album, Some People Have Real Problems hit number 14 on Billboard's Heatseekers chart and was featured as Starbucks' Album of the Month. (Regarding a Late Show with David Letterman performance in support of the album, Siatold the Adelaide magazine: "At the age of 12, I would sit in the bath and rehearse interviews with Dave.") Sia was gaining steam. The kind of steam she had envisioned from an early age.
The Behind-the-Scenes Songstress
Still, it wasn't until she started writing for other artists that she started to gain true music industry notoriety. One of Sia's most fruitful partnerships was with Christina Aguilera, whose electro-tinged 2010 album Bionic proved a perfect vehicle for Sia's unconventional songwriting approach. (She co-wrote the ballad "Light & Darkness" and was Aguilera's advisor during the first American season of The Voice.) Soon after, Sia launched hits with EDM superstar David Guetta ("Titanium"—which used her own vocals), Beyoncé ("Pretty Hurts"), and—biggest of all—Rihanna's Unapologetic super-smash "Diamonds."
Swinging From Her Chandelier
As big as Sia was becoming as a songwriter, nothing could compare to the success of her sixth album, 1000 Forms of Fear. The album, which was inspired by Sia's personal experiences, resonated with fans across the globe and eventually netted Sia multiple GRAMMY nominations. The video for the album's first single, "Chandelier," was an instant viral sensation and now has upwards of 720 million YouTube views at the time of this writing. Co-directed by Sia herself and featuring the spectacular young dancer Maddie Ziegler, the beautifully choreographed video for "Chandelier" stands as a visually arresting tour de force. And like "Chandelier," the follow-up, "Elastic Heart," proved just as inventive with Sia employing actor Shia LaBeouf alongside Ziegler, who reprised her role as Sia's artistic surrogate.
Wig on Wiig
Speaking of the GRAMMYs, Sia's performance piece for "Chandelier" wound up being one of the ceremony's biggest highlights. Rather than performing the song herself, however, Sia created a live, performance art piece in which actress Kristen Wiig wore the now iconic nude-colored leotard and blonde wig associated with Sia's videos, taking the stage alongside Ziegler while Sia sang with her back to the audience. It was a bold move—at once sad, funny, and moving—for an otherwise straightforward showcase that allowed millions of potential new fans to witness Sia's ability to create set pieces unlike any other mainstream pop star.
Hit After Hit
Though Sia's success with 1000 Forms of Fear has made her a superstar, she hasn't slowed down. During Kanye's recent adidas fashion show, the rapper debuted "Wolves"—a collaboration with Sia and Vic Mensa. Soon after, the three would perform the song on Saturday Night Live's 40th Anniversary Special crouched in front of a spectacular white-light backdrop. Sia, of course, donned her trademark, oversized hair. What's more, the singer continues to see her latest album gain steam almost a year after its release. Everyone from Jimmy Fallon to Lena Dunham has now parodied her video, and the reluctant singer has even received the Glee treatment. Even though she still rarely shows her face, it is now difficult to find anyone who doesn't now know Sia's name.
This article was written by Jeffrey Slowne from Pepsi and was legally licensed through the NewsCred publisher network.