1
Pulse on Who's Next Supercut: Pepsi Music Accelerator at Music Matters Edition
August 21, 2013
via
Billboard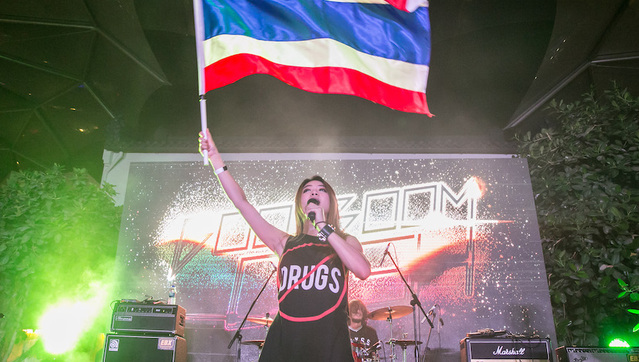 Last month Music Matters, Asia's biggest independent music festival and conference, took over Clarke Quay in Singapore for hundreds of performances, showcases and surprise appearances. In its fifth year, Music Matters is becoming a juggernaut for emerging musicians to connect with industry executives, debut new material and win over new fans. The festival brings together 70 acts from 25 different countries and spans genres from hip-hop and soul to dance music and metal.

This year, Pepsi partnered with Music Matters to find four fresh acts across Asia and give them a chance to experience the action as part of the Pepsi Music Accelerator at Music Matters. Emerging talent from China, India, Thailand and Vietnam won a once-in-a-lifetime trip to Singapore to take the stage and perform at Music Matters Live 2015, learn at the Music Matters Conference and be mentored by industry veterans including Tree Link, Terry Ellis, Pepsi's Richard Lee and more.


The Pepsi Finalists were Thai EDM super group Boom Boom Cash, Chinese hip-hop group U180, Vietnamese pop rising star Nhật Thủy, and Indian post-metal group Space Behind the Yellow Room.
Where they're from: Thailand
Song to Know: "Forever Young"
Boom Boom Cash are the new face of Thailand's burgeoning EDM space. The four-piece outfit includes classically trained opera singer Miew, rapper/bass player Kaek, drummer Ae and sound designer Gosh. Blending elements of rock, club, dubstep and house music, the members of the band all come with years of musical backgrounds spanning opera, rock and alternative. Having developed a balance that allows them to incorporate elements of each into their sound, Boom Boom Cash is becoming a regional mainstay. Last year they caught major attention for their collaboration with Sukie Clapp on his single "Forever Young," released as a part of his Monkey Disco Boy project. Check it out above and make hitting a Boom Boom Cash club performance a top priority the next time you're in Thailand.
Where they're from: China
Song to Know: "Uncensored Line Space"
Backstory: U180 is a rising rap group hailing from the East side of Hangzhou. Their hip-hop combines the lyricism of two talented MCs, T-Jack and Nengen, with jazz and soul-influenced throwback beats from DJ/Producer Chopurmind. U180 will release their first album this year with features from other local MCs including DJ LJ, DJ Fatkit, Snarelop, Petenut, Gavintoo, Goldchild, Soundzimage and Lu1.
Where she's from: Vietnam
Song to Know: "Tỉnh Giấc"
Pop vocalist Nhật Thủy from Nam Dinh, Vietnam was the winner of the fifth season of Vietnam Idol. She made waves on the show for her beautiful voice and captivating stage presence. After releasing her debut album Tỉnh Giấc she's making a name for herself as a ballad singer with major star potential. Her singing is what earned her the winning title, and her penchant for fashion is keeping her in the press.
Where they're from: India
Song to Know: "Beautiful Repetition"
Space Behind the Yellow Room are a post rock/metal band from India. Comprised of Shoumik Biswas on Drums/Vocals, Devasheesh Sharma on Guitar, Nihar Apte on Guitar and Eshaan Sood on Bass, the four-piece independently released their debut album Conversations that Determine a Life in September of last year and committed to finding their place in the music industry in a way that feels authentic to their creative vision. Their mantra is to write songs that make listeners experience narratives and emotions differently, and their indie status gives them the freedom to be creative and keep pushing boundaries.