Five Mainstream Pop Songwriters Who Will Stand the Test of Time
August 26, 2015
via
Pepsi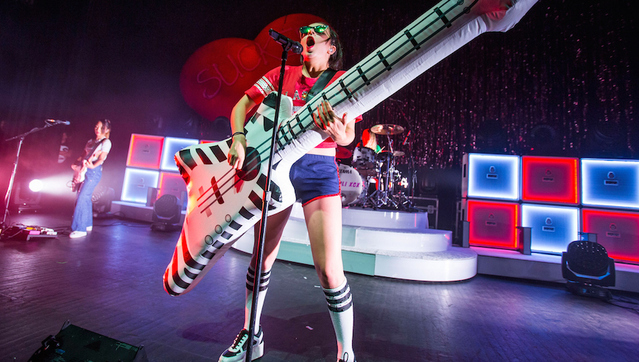 Women dominate the pop world, not only as the faces for radio ballads written by Linda Perry while tucked away in her Los Angeles dungeon, but as producers, song writers and performers themselves. The following pop stars have risen on their own terms, dominated the charts and biggest festivals with hits they wrote themselves, and these performers will stand the test of time.
Grimes
The 27-year-old Canadian psdcawecaweop star blew up in 2012 after her hook-packed album Visions sent the musician from art club basements to Coachella and The Jimmy Fallon Show. Claire Boucher has been performing, producing and writing her own music since she began experimenting whilst studying at Montreal's McGill University. Now, she is not only a house hold name in electronic pop and fashion icon, but she's also a vocal feminist whose internet-savvy presence has spurred controversial rants about body image and credibility.
Beyoncé
Anyone who questions Beyoncé's involvement as a writer in her creative process is clearly missing the point. Furthermore, the woman has writing credits on all her albums. It's Beyoncé. She's basically Elvis for the Millennials.
Lana Del Rey
Lana Del Rey was not always belting sultry ballads about falling hard for outlaws and being draped in pearls and depression. First, she was May Jailer, innocent acoustic dream girl, then she moved into a trailer park and became Lizzy Grant, but finally, Lana Del Rey emerged and something clicked when the world heard her debut album Born To Die. Highly criticized yet menacing, Lana Del Rey challenged the spotlight with odd live performances and illusive interviews, until her sophomore effort Ultraviolence showed that she can really execute an iconic song. Love her or hate her, Lana Del Rey has an undeniably appealing intelligence, sex appeal and more over, mystery. In a world where every pop star divulges personal details of their medicine cabinets and breakfast cereal choices on social media, Del Rey keeps it all hidden behind her controversial, glamorous persona.
St. Vincent
Annie Clark, or as she is better known as St. Vincent, is the kind of kid who sat in her room, playing guitar scales for hours until her fingers bled. You can tell, not only by her technical proficiency as a guitarist, but her creativity and uniqueness as a pop-songwriter. Someone who melts genres so effortlessly she's impressed (and worked with) everyone from Talking Head's David Bynre to iconic punks Wire. Clark cut her teeth playing in background groups for The Polyphonic Spree and Sufjan Stevens, but broke out into mainstream pop stardom when her fourth, self-titled studio album landed the Manhattanite a Grammy.
Charli XCX
Charli XCX churns out bubble-gum-pop-perfection like a fish lays eggs. At the ripe age of 22, this British songwriter has been charted to Los Angeles since high school to (as she told Stella magazine), and "put in a room to vomit out lyrics for other artists." In the last few years, Charli XCX wrote Icona Pop's breakout hit "I Love it," the infectious hook for Iggy Azalea's "Fancy," as well as writing her own albums 2012's True Romance and 2014's Boom Clap and 2015's Sucker. It's her best work yet.
Photo by Scott Legato/Getty Images
This article was written by Dana Droppo from Pepsi and was legally licensed through the NewsCred publisher network.