Snowball's chance as rugby chases its own GI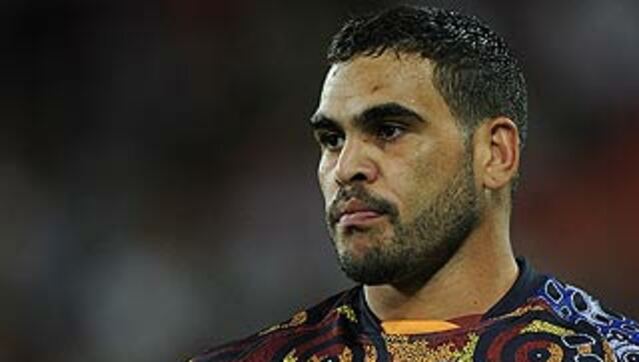 Leonard Snowball. Remember the name.
That's the easy part. Trying to stop him on the rugby field? That's when things get a little tougher.
He's as strong as an ox, as big as a house and one of the best teenage forward prospects in Australian rugby. And importantly, for a code that has struggled to tap into some of the most talented juniors in the nation, he's indigenous.
Snowball hails from Babinda, a town about 60km south of Cairns best known for its annual tussle with Tully and Innisfail for the Golden Gumboot, awarded to the town with highest rainfall total.
When he's not checking the rain gauge he's rampaging over rucks as part of the all-conquering Queensland Under 18 Indigenous side, which stormed to a second straight title at the national championships in Sydney in April.
It's a side that coach Chris Ryan believes could produce at least four Super Rugby players and potential Wallabies.
He even went as far to suggest rugby's version of NRL superfreak Greg Inglis - who might well be the best player on the planet in either code - could be right under the game's nose, if it's good enough to keep him in the system.
"I just couldn't get over some of the natural talent of the kids. And that's not just in the backs. There are forwards as well and that's important to consider," says Ryan.
Rugby's struggle to harness the talent of indigenous players has been well chronicled. Even now only a handful of players at Super Rugby level have any sort of indigenous heritage, while AFL and rugby league boast far higher representations, including many of their headline stars.
In 2010, the ARU's efforts to foster indigenous participation were lambasted by former Randwick player and coach Tom Evans. Evans is the chief executive of the ARU-affiliated Lloyd McDermott Rugby Development Team.
"I sit with the NSW and Australian Rugby Union community rugby and the whole office is very white Anglo, yet if you have a look at the player roster of all these teams, the Polynesian influence is massive," he told Fairfax at the time.
"They've done very little to embrace that. They've done very little to embrace indigenous participation in rugby. If it wasn't for our organisation, there wouldn't be any indigenous program."
The comments made the ARU bristle but may have had the desired effect. Three years later, Ryan says the game has vastly improved its pathways for indigenous players and it wouldn't be long until that started to pay dividends at Super Rugby level and beyond.
"I think that up until recently, the development pathways for indigenous kids in rugby league have been superior and more proactive. But now in the past three or four years, the ARU has worked very hard on that," Ryan said.
"I think it will translate to more representation at the top level in the near future because rugby union has got its house in order over the past few years. They are really starting to tap into that talent resource."
Ryan offers a number of reasons why young indigenous rugby stars have battled to find their way to the Super Rugby franchises. For a start, the game lags well behind league in the bush in terms of popularity.
And even when young indigenous players shine at the 15-man game, NRL scouts are ready to pounce.
"There's no doubt that there is fierce competition between league and union for the services of these kids. Everyone is out there trying to get these kids into their programs," Ryan said.
"But some of the things the ARU are doing is working well to get them into the right programs, like the National Gold Squad or even getting them into the private school system."
Then there's the outdated notion that indigenous players should only be scouted for backline vacancies, rather than play in the forwards. Ryan believes that has to change.
"I think there's probably a perception that the indigenous kids can only really be outside backs. That's definitely incorrect, "Ryan said.
"The perception is that you think of Andrew Walker, reasonably slight and exceptionally talented. But some of these kids are as big as any in the schools programs if not bigger."
Hulking prop Snowball is one example Ryan gives: "Speed over 15 metres that is scary, the strength of three men and aggression that cannot be trained." Number eight Ikaika Fa'aoso is another Ryan believes has the gifts to play professionally.
And if his appraisals are close, it won't be long until fullback Joshua Robinson and five-eighth Trae O'Neill are more than just talented prospects.
His praise of Robinson is nothing if not grandiose, saying he can grow into rugby's Inglis if given the opportunities. In O'Neill, he sees a young Kurtley Beale but with more upside to his game management skills.
Most of the Queensland players hail from remote areas but many are being schooled in Brisbane's GPS system, a controversial practice of its own given the ongoing debate about schools recruiting players to bolster their rugby programs.
But Ryan maintains it's the most effective system rugby can currently offer to retain talent in the code, rather than see them play league in traditional strongholds and be signed without a fight by NRL clubs.
"That's a powerful tool to use. That's a controversial system and a whole different topic but one of the positives out of it, for the broader base of playing talent, is that you've got the best kids in really good rugby union programs," he said.
For a while, it appeared as if rugby union was light years away from finding the kind of indigenous superstars that have helped take rival codes to new levels.
Maybe there's a Snowball's chance after all.