'Iron Man 3' keeps 'Gatsby' off top of US box office
May 13, 2013
via
Agence France Presse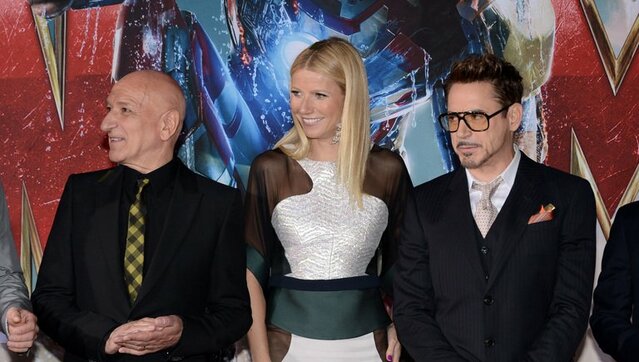 Super-hero blockbuster sequel "Iron Man 3" stayed on top at the US box office after it's mega debut a week earlier -- but "The Great Gatsby" was also a power player, industry figures showed Monday.
On its second weekend in US theaters, "Iron Man 3," starring Robert Downey Jr as the title character, took in $72.5 million, according to industry tracker Exhibitor Relations.
Adding to its take since it opened last weekend with $175.3 million -- the second biggest box office debut ever -- the comic book superhero flick has now racked up a total of $284.9 million.
But "The Great Gatsby," starring Leonardo Di Caprio in Baz Luhrmann's adaptation of the literary classic, was a respectable number two, with $50.1 million in box office receipts in its opening weekend.
The rest of the movies in the week's top ten trailed far behind, with action-comedy "Pain and Gain," starring Mark Wahlberg and Dwayne "The Rock" Johnson, earning a comparatively paltry $5 million for third place.
In the fourth spot, romantic comedy "Peeples," starring Craig Robinson as a boyfriend who initially fails to impress the tony family of his girlfriend, played by Kerry Washington, took in $4.6 million.
Not far behind was "42," a biopic about trailblazing black baseball star Jackie Robinson, which made just under $4.6 million for fifth place.
The sixth spot, with $4.1 million, went to "Oblivion," the post-apocalyptic action flick starring Tom Cruise, followed by "The Croods" -- a stone-age cartoon -- in seventh, with $3.6 million.
"Mud," a coming-of-age story starring Matthew McConaughey and Reese Witherspoon, came in eighth place, taking in $2.5 million.
In ninth with just less than $2.5 million was "The Big Wedding," a star-studded comedy featuring Robert De Niro, Katherine Heigl, Diane Keaton and Robin Williams.
And rounding out the top 10 with $1.1 was Walt Disney's 3D fantasy adventure flick "Oz the Great and Powerful," which has earned a grand total of nearly $230 million since it opened ten weeks ago.