Watters to stick with youngsters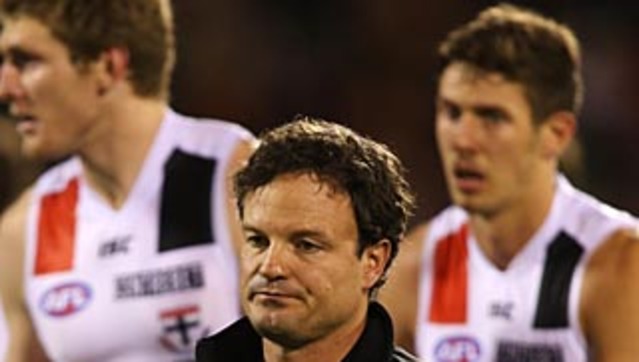 St Kilda is heading for its worst season since finishing 15th in 2002, but coach Scott Watters says he is not about to have a knee-jerk reaction and change direction.
He expressed disappointment at a 40-point loss to Adelaide on Sunday night, leaving the Saints 2-6 and their final eight hopes dwindling rapidly, but remained adamant that youth was the right path.
Watters also refused to concede that St Kilda was battle weary after playing Carlton six nights earlier and then playing interstate. The Saints now have another six-day break before taking on the Western Bulldogs at Etihad Stadium on Saturday.
''I think we are on track as to where we need to be,'' Watters said. "We are disappointed with the loss - no doubt - but our pathway doesn't change too much. We will show faith in the players we believe will come through.
''We are playing the players we need to play. We understand that a large portion of our list is to develop and needs to grow, but we are excited by that. We have a lot of faith and confidence in the newer players coming through.
"We think we have some great leaders who, week-in, week-out are working extremely hard to stand up and deliver a level of performance.''
Watters deflected the notion younger players generally brought inconsistency. ''In many ways they are still learning, and being conditioned to play week-in, week-out does take some time and exposure,'' he said.
"We don't want to use that as an excuse, but I know that Seb Ross after six games will be a different beast after 30 or 40 games.
"The only way to get the players to that level of exposure is play them. They have had some terrific experiences over the last three or four weeks, playing Sydney Swans in New Zealand to playing Friday night against Collingwood, to playing Monday night against Carlton to playing away here at Footy Park.
"That's fantastic for them. Are we happy the way we finished the game? No. We will take that on the chin and butter up next week.''