Blues are making progress but fear prowling Lions
May 19, 2013
via
Sydney Morning Herald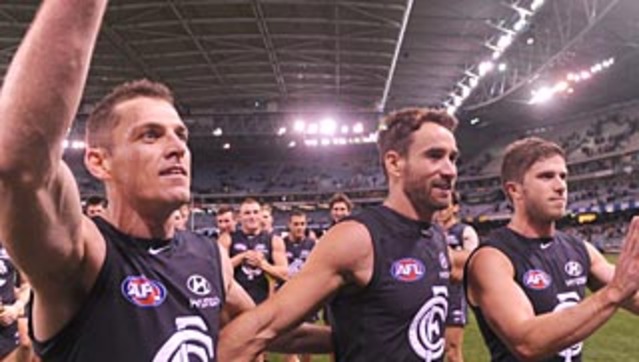 A truer test of Carlton's worth looms with crunch games against Essendon and Hawthorn before the mid-season break, but coach Mick Malthouse senses danger in a buoyant Brisbane Lions outfit next Saturday night, in a competition he believes is drawing ever closer together.
The Blues marked Heath Scotland's 250th game, the 150 milestones of captain Marc Murphy and Andrew Walker, and the debut of Troy Menzel with an underwhelming, three-goal win over Port Adelaide on Sunday.
Malthouse reflected the Blues were making progress. ''I think the competition is closing in … sometimes it's confidence, sometimes it's a player who's out,'' he said, already looking to the Lions rather than back on a hard-working but at-times clumsy win over Port.
''And they [Lions] beat a very good form side [Essendon] on their home ground. That's our next opponent, we know we're in for a very tough game.''
Malthouse wouldn't speculate on whether Bryce Gibbs would return from injury, and said a major focus would be on restricting the sort of easy goals that were kicked against them by Port.
''We'd like to think we squeeze sides to make them earn every goal, and they didn't. I thought probably half their goals I would label soft, because we didn't put enough pressure on either the source or the exit. We've got some work to do.''
Malthouse will also ponder whether the Blues function best with Matthew Kreuzer and Robbie Warnock in the same team.
''They've got to find the form and the balance. Today was a good step for both boys. We've got to use the ball differently. There's a lot of work to be done, but we're enjoying it, and I think we're going in the right direction.''
Malthouse employed Murphy as a small forward in place of the suspended Eddie Betts, and was rewarded with a three-goal performance. The skipper was happy to do what team balance demanded.
''It was a good change-up. Obviously having Eddie and 'Yazz' [Chris Yarran] go out it was a good change-up - I enjoyed my time down there [in attack],'' he said.
Port coach Ken Hinkley said his players' lack of composure was disappointing and the Power was still in the game late through luck rather than good management. He disputed the notion that his young team was being found out after a 5-0 start to the season.
''Our ability to handle pressure from a mature side, we didn't handle that the way we need to,'' he said.
Domenic Cassisi will be sidelined for at least three to four weeks after tearing his hamstring, while onballer Hamish Hartlett will come under scrutiny for lashing out at Murphy in frustration.
''That's what happens - you get a bit of pressure put on you and you've got to keep your composure,'' Hinkley said.
The former Geelong defender and assistant coach welcomed next weekend's first assignment against his former club as a senior coach.