White pays tribute to Mandela
July 27, 2013
via
Sydney Morning Herald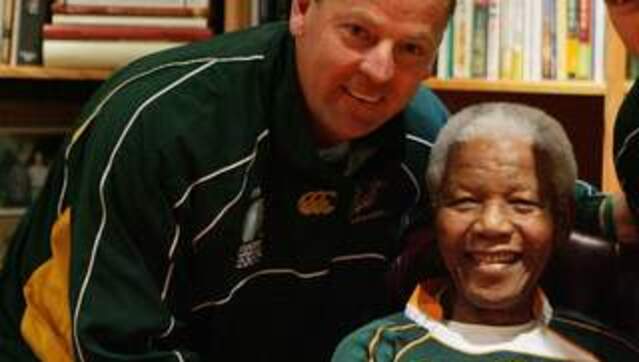 ACT BRUMBIES coach Jake White paid tribute to anti-apartheid hero Nelson Mandela before his team's Super Rugby semi-final, declaring Mandela the man who ''inspired the Rainbow Nation''.
White and Brumbies captain Ben Mowen tried to visit Mandela at Pretoria's Mediclinic Heart Hospital before taking on the Pretoria Bulls.
Just hours before the Brumbies' last training session, White asked me to meet him in the hotel foyer.
He wanted to go visit Mandela, had invited Mowen and asked if I wanted to join them.
Visiting the former South African president and one of the world's most inspirational figures was White's way of paying tribute to Mandela.
Even if he couldn't get in the room, White wanted to make the effort to visit the hospital and pass on his wishes to the 95-year-old recovering from a lung infection.
Mowen was surprised. He didn't know what to wear and changed twice before White said he would be fine in Brumbies kit.
I did the same in deciding what to wear in preparation for being in the same room as an iconic world figure.
Mowen then grabbed a Brumbies jersey to leave as a gift.
There are just two No.8 Brumbies game jerseys in Pretoria, but Mowen was prepared to leave his back-up with Mandela.
''The aura, the presence, the ability to be humble. You never, ever, ever, ever, ever hear a bad thing about him. He never says the wrong thing,'' White said of Mandela.
''It's incredible … he changed the world. He inspired the Rainbow Nation.
''In a country like ours where there's so much diversity and so much cultural change and emotion, it's highly unlikely you get a leader like Mandela.
''No leader in South Africa has had the same backing and respect that Mandela has.''
We got through security outside the hospital where television cameras have been stationed since Mandela was admitted on June 8.
The walls outside the hospital are plastered in banners, posters and flowers wishing Mandela well. A crowd of school children arrived at the same time as we did to stand outside with the tributes.
White carried the flowers and the jersey into reception.
He spoke to the nurse, but security protocols meant the World Cup-winning coach couldn't get into the room.
That didn't matter. The visit was about White touching base with his South African heritage and paying respect to a man who changed the world.
White and Mowen could have left the flowers outside the hospital. But instead they waited until White's friend Zelda - one of the ladies who looks after Mandela - came to collect the flowers from the team hotel.
White invited Mandela to the 2007 World Cup final, but he declined because of illness and instead sent an inspirational video to the players.