Folau shrugs off pressure
June 20, 2013
via
Sydney Morning Herald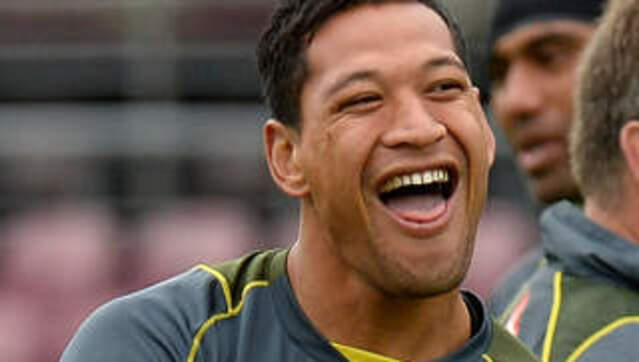 Israel Folau says he is not worried by the prospect of the full weight of the British and Irish Lions' back line hurtling towards him on his Test debut on Saturday night.
The league convert, who scored 37 tries in 38 games from the wing for the Broncos during his two seasons with the NRL club, was named on the wing for the Wallabies' first Test against the Lions, despite playing all but one of his Super Rugby games for the Waratahs at fullback.
Lions coach Warren Gatland picked up on the switch immediately on Thursday, signalling an attacking onslaught from his back line at Suncorp Stadium.
''Folau hasn't played a lot on the wing, he's obviously incredibly talented but he's been playing a lot at fullback,'' Gatland said.
''We know what a quality player he is, what an outstanding athlete, but probably the hardest position on the field to defend is … the winger, so there'll be no doubt he'll receive some sort of attention and we'll see how strong he is at that.''
Folau said he was relaxed about playing on the right flank after training there for the past fortnight.
''I've had plenty of time to train myself playing [there] and I feel very comfortable, [as well as] when I've had opportunities to play there so far,'' he said.
''It doesn't worry me. It would [always] be the same mindset I'll take into Saturday night and nothing will change.''
Despite losing powerful midfielder Jamie Roberts, the Lions are backing George North, their 1.92 metre, 105 kilogram winger, to test out the Wallabies' defence in combination with inside-centre Jonathan Davies and winger Alex Cuthbert.
Their work against the Waratahs in Sydney a week ago heralded the threat the Lions' back line poses when the platform is laid up-front.
Gatland said the match-up of North with Folau alone would make the match ''worth the fare'', while Folau said he was not blind to the challenge confronting him on this next step up in rugby.
''[North] is a quality player and I've had to do my homework over the last couple of weeks,'' Folau said. ''It's going to be a tough challenge for me, but I've just got to get stuck in and do my best and try to limit his opportunities.''
Folau's prowess under the high ball is sure to come under scrutiny, especially when the Lions boast the boot of Leigh Halfpenny, their Welsh fullback.
But the visitors have done their homework, preparing for the likely cross-field kick attempt that worked well for Folau at the Waratahs this season.
''We've being working on a lot of high-ball stuff, being good in the air, being dominant in the air and being as effective as we can,'' North said.
Robbie Deans, who will give three players their Test debuts this weekend, backed his wildcard.
''It's not really a debut - he's played international sport before,'' Deans said. ''One of the advantages Israel has is the Lions haven't faced him previously. They will want to limit [his influence] because he's a bloke that makes things happen.''
For all the talk of ''slabs of red meat'', Gatland was forced, through injury, to choose a subtler combination in his back line, naming veteran Ireland centre Brian O'Driscoll in partnership with Davies, and Jonathan Sexton at five-eighth opposite Wallabies playmaker James O'Connor.
The Lions coach defended the potential physicality of his back line. ''I don't think Jonathan Davies at 105 kilograms is a small midfielder,'' Gatland said.
''Just because he's not as tall as the other two [Roberts and Manu Tuilagi], I don't see him lacking a physical element at all. George North comes in and the No.9 [Mike Phillips] and No.10 are both big backs as well. What it does give us is a few more subtleties, and we've got some pace and firepower out wide, too.''