The world according to Cronk
June 22, 2013
via
The Age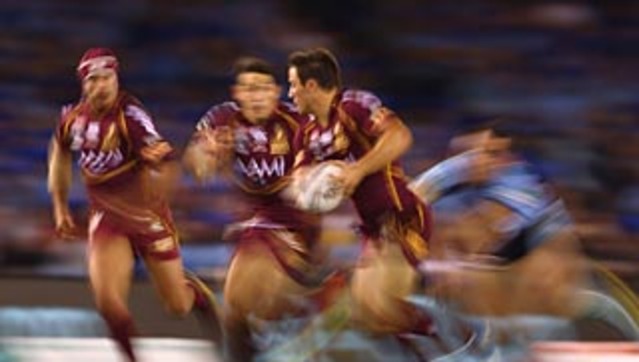 Queensland half-back Cooper Cronk has revealed the advice he will give to Daly Cherry-Evans about filling the fraught interchange utility role in origin II.
Melbourne Storm's Cronk started his origin career as an interchange specialist behind Darren Lockyer and Johnathan Thurston, only gaining a starting place upon Lockyer's retirement.
Manly's Cherry-Evans comes into the Queensland squad for Wednesday's Suncorp Stadium clash with NSW after coach Mal Meninga used four forwards on the bench in game one.
''You get the experience of origin without the pressure cooker of starting,'' Cronk said. ''The worst thing is you get to warm up, you get all the adrenalin, and then you have to sit down for a bit.
''I know Daly will want to have an impact and that's a positive. You want to come out in the game when most players are tired and I'm sure he'll have a contribution to this performance on Wednesday night.
''[The advice is] 'don't hesitate'.''
Cronk says filling the bench role helped prepare him for his position as Australia's first-choice half-back.
''I was fortunate enough to play that sort of utility role in the early years,'' Cronk said.
''I think it was really a benefit in terms of getting a feel for origin. It's helped me today and I know I'm more than happy to help Daly in terms of any questions in terms of playing in the middle or playing in the halves or anything like that.''
Cronk was rested from last Sunday's narrow win over Newcastle and said he was no longer stressed about missing club games at origin time. Brett Finch deputised and will again do so on Monday night against Gold Coast.
''We've got Brett Finch playing at an extraordinary level [the week before] at Cronulla and hopefully we don't lose five games at the end of origin so there's a plan in place,'' he said.
''I was a little bit sore after the Sharks game so there was a decision made. The boys are playing this week without the origin players, so getting Brett Finch in a week early - the result made the decision a smart one.
''I've probably changed in my attitude in terms of watching football. I used to find it difficult but I'm comfortable with the decision. You try to stick to a plan and while it doesn't guarantee you success, hopefully it's the best thing for the club.''
Like Storm and Queensland captain Cameron Smith, Cronk was dismayed by the off-field controversies of recent weeks and was acutely aware of the damage done to the game's image in frontier territories like Victoria.
''We as players have a responsibility greater than the scoreboard - to entice young people to play the game, mums and dads, I think that's paramount whether you're playing at the highest level or the lower levels,'' he said.
But Cronk offered no philosophical musings such as his comments before the opening match of the series.
''I heard it caused a stir,'' Cronk said when asked about the email interview. ''But I'm comfortable with every single word that came out.''