Sounds of silence at Le Mans
June 22, 2013
via
The Age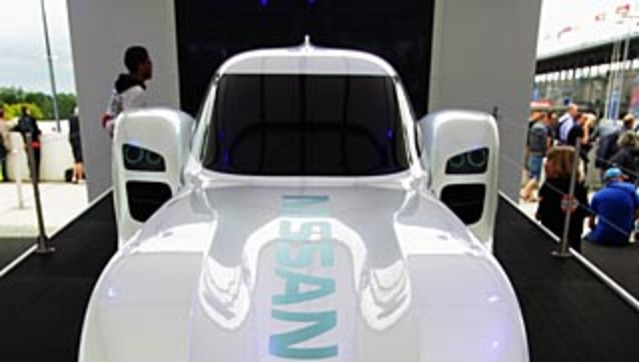 Silence and motor racing are normally like chalk and cheese, but the big noise at next year's Le Mans 24Hours sports car endurance classic will be a racer that barely makes a sound.
Nissan has announced plans to field an experimental electric car capable of 300 km/h that will be nearly silent.
As well as its lack of racket, the first electric car to contest the world's greatest endurance race will attract attention because of its futuristic appearance.
On the eve of this weekend's LeMans 24 Hours, Nissan unveiled a mock-up of a swoopy coupe that looks more like a jet fighter than a traditional closed-cockpit racing car.
Beneath the needle-nosed bodywork will be an advanced powertrain that employs two electric motors whose batteries will be kept charged by a small petrol engine and a formula 1-style energy recovery system.
Billed as the fastest electric racing car in the world, the Nissan ZEOD RC – which stands for Zero Emission On Demand – it will be entered under LeMans' "Garage 56" exemption for experimental cars that employ unconventional engine technology.
But it is not a one-off publicity stunt because the rules require a further commitment of at least three years to contest the outright LMP1 class with a new car using a development of the advanced powerplant.
The lessons Nissan learns from the ZEOD RC will be applied to an electric-powered racer that will challenge Audi, Toyota and Porsche in 2015.
"We'll use this to test that drivetrain, although not necessarily the one we'll use in 2015," said Nissan's global motor sport director Darren Cox. "We need to test a lot of the components and the theory in this car for the next car."
The Japanese car-maker's targets for next year are to set a lap record for electric cars using battery power only, to reach a top speed of better than 300 km/h and to finish the twice-around-the-clock race.
If the ZEOD RC's radical look seems familiar, it's because it is.
The trike-like layout – with two narrow wheels mounted side-by-side at the front – and low drag/high downforce body shape are based on the principals of the ground-breaking Nissan DeltaWing that was the first "Garage 56" entry at Le Mans last year.
The DeltaWing attracted worldwide attention because of its Batmobile-like appearance.
British engineer Ben Bowlby, who created the DeltaWing concept, is leading the ZEOD RC project as Nissan's newly appointed director of motor sport innovation.
"It will change people's perceptions of electric vehicle technology forever," he said.
With the primary powerplant being the electric motors, it will whoosh rather than road around the 13.6-kilometre Le Mans circuit.
"It's going to be remarkably quiet," Bowlby said. "It won't be silent – it will have a totally different sound. You'll hear the wind noise and the tyre noise because the engine noise will be so small." Described as an "electric traction drive system", the ZEOD RC will use a souped-up version of the power pack used in the road-going Nissan LEAF electric car.
It will have a small on-board petrol engine running at a constant speed to help keep the batteries charged, along with hybrid-style regenerative braking and other energy recovery systems.
"There isn't a battery technology at the moment that can run for 24minutes at racing speeds, much less 24 hours, without recharging," Bowlby said.
He also admitted that despite Nissan's proven expertise in electric vehicle technology for road cars, adapting the technology to racing for 24 hours was fraught with risks.
"Le Mans is the most unbelievable challenge – and a very unnerving one, too," Bowlby said. "Innovation is risky and there is every fear in the world about what we're doing. This is actually incredibly difficult to do.
"I'm much more nervous about this project and the implications of what we're trying to do than I was with DeltaWing. The fact that it hasn't been done tells you it's not a simple challenge.
"We are going to be taking the opportunity to show just exactly what can be done with battery electric technology."
The ZEOD RC's petrol-electric combination is several months away from being finalised.
Most of the testing of the initial prototype racer, which is due to begin in September, will be conducted with the car propelled by its lithium-ion battery-powered twin electric motors, which will produce just over 200 kW.
That's about half the power of the pace-setting hybrid diesel-powered Audi R18s in this year's race – which is due to finish at 11pm on Sunday AEST – but it will be offset by being 100 kilograms lighter than next year's outright contenders.
The ZEOD RC will also make up for its lack of power with its wind-cheating delta shape, which produces much less air drag than conventional sports prototype racers.
Mark Fogarty was a guest of Nissan at the Le Mans 24 Hours