June 23, 2013
via
The Age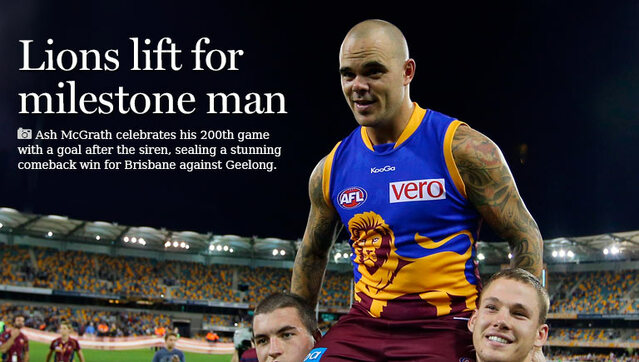 Geelong coach Chris Scott did not bother to hide his anger after Brisbane pulled off one of the upsets of the season by storming home to beat the Cats by five points at the Gabba.
"Use your five minutes wisely, boys," Scott said through gritted teeth to start the media conference. The Cats had just squandered a 52-point lead as the Lions completed the eighth-biggest comeback in AFL history.
"I would describe the mood at the moment as restrained fury," he said, and his face was a picture of exactly that. "I'm not going to speculate now; we're going to take the time we need to review it and make an accurate assessment.
"Clearly I'm emotional, we're emotional, we're disappointed. But we're 10 [wins] and two [losses], and we'll move on after we've reviewed it thoroughly, because we're not going to sweep this one under the carpet."
Asked if the players were also angry, Scott replied: "Of course they are, and so they should be. But really, the only thing that matters from here is that we channel that the right way.
"I've been really clear that we haven't been playing well and it's been happening for quite a while. Even through the season, we've beaten some good teams, but we've only played in fits and spurts, and fortunately for us it's been good enough, but tonight it wasn't.
"We need to improve; it's not lip service. Our players aren't in denial either; we're aware that we haven't been playing well enough, but we're still in it. We're in a little bit more of a fight than we were an hour ago, but we're 10 and two, we've got to keep a little bit of perspective.
"We haven't had our heads in the sand, we're not kidding ourselves We need to improve … We'll review it. We'll coach our players the best we possibly can, we'll take responsibility, and we'll ask our players to do the same."
To make matters worse, Steve Johnson will face a nervous wait after a heavy bump on Pearce Hanley left the Irishman groggy in the first quarter.
As McGrath lined up his match-winning shot, teammate Dayne Zorko raced up and told him to simply ''go back and slot it''.
"I was like: 'Yeah, cheers mate'," McGrath said, before doing just that. But McGrath revealed he didn't like the shot off the boot. "I thought it was going to hit the post,'' he said. ''But the full moon … I think my old man Cliff (up there) must have pushed it through. It's a boyhood dream. You do it growing up in the paddock. I finally get my chance. It's taken 200 games.
"You always dream of kicking the winning goal to get your team over the line. To finally get a win and be at the Gabba, it's great. It's my 200th game, Blacky's record-breaking game, it's a surreal feeling at the moment."
Brisbane coach Michael Voss, under intense pressure to keep his job, admitted he wasn't sure how the momentum turned so comprehensively in his side's favour. "That margin crept out to an uncomfortable space for a little while," he said. "To close that, in the end the players have to believe at three-quarter time that that's possible.
"I'm not sure where that actually ended up coming from. But certainly more players willed themselves at the contest and believed right until the final seconds, and Ash McGrath had the fairytale finish - 200 games, and I must admit, he was a good guy to have the ball in his hands. If you're going to have a 52-metre shot for goal, Ash would be one of the guys that I'd pick."
Voss said it was up there with the best wins he had experienced as coach. "It'd be very close," Voss said. "The calibre of the team you're playing, that's always got to be an important criteria to it, and when you put it in the situation of how far we were behind.
"Look, it's just a really good win. It's important in this moment to acknowledge the great win, but also what's going to be important out the back of it is how we handle it. It'll be business as usual, you can't drop your work-rate, you can't drop your preparation. But for tonight, we certainly get to celebrate a bit."