A Swift change, but not a final one
June 22, 2013
via
Sydney Morning Herald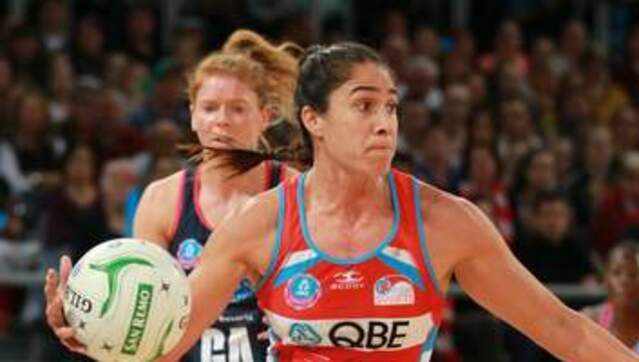 Rugby sevens-bound Mo'onia Gerrard has vowed to return to netball at some point in her career and says her decision to switch codes was the most difficult she has ever made.
At 32, Gerrard will call time on netball in pursuit of her Olympic dream to play rugby sevens in Rio in 2016. The NSW Swifts co-captain will play her final game before her sabbatical in the club's last match of the season on Monday night, at home to the Canterbury Tactix.
Her farewell will be emotional, but Gerrard does not believe it will be her last goodbye as she hopes to return to the court in 2017. ''I still have the desire to play on for 2014. but I know I want to give myself a big chance or time to see if I'm capable of doing sevens,'' she said.
''In saying that the World Cup is in 2015, and I will be looking at that time to see what's going on. At the moment I've made the choice to do the sevens gig and see where it takes me.''
Gerrard has long wanted to follow in the footsteps of her younger brother Mark and represent her country in rugby, and will start her new career next year.
With rugby sevens introduced as an Olympic sport for the first time in Rio, Gerrard believes it is now or never to make her dream move. She initially planned to make the switch to rugby after next year's Commonwealth Games in Glasgow, but has decided to switch earlier to ensure she will be in good shape.
''This time of the year is probably a good time to make the shift,'' Gerrard said.
''Following the Commonwealth Games there will be more Test series, and then there is the World Cup, so in terms of time and where my body will be at, I did take my toll and … with the World Cup and Comm Games so close to each other, I was really knackered.''
The Swifts will miss the finals this year for the second successive season, and are third-last on the table of the trans-Tasman competition. But Gerrard says their poor performance this season did not influence her to leave the game.
''Zero, actually zero,'' she said. ''Even though the ladder reflects something different in terms of the culture we're building at the club from the administration to the players. Probably the saddest thing for me is to leave, but also some exciting times.
''It was emotional when I told the girls, I have to admit. In terms of what we're trying to achieve as a club, culture and trying to get back to winning ways and just having good people around the club and the team and what we try to develop, it's sad to leave.
''In saying that, I couldn't just have that dream of mine to hopefully go to the Olympics - I needed to give it a crack, I needed to see where it will take me, I'm not one for regret.''