June 23, 2013
via
The Age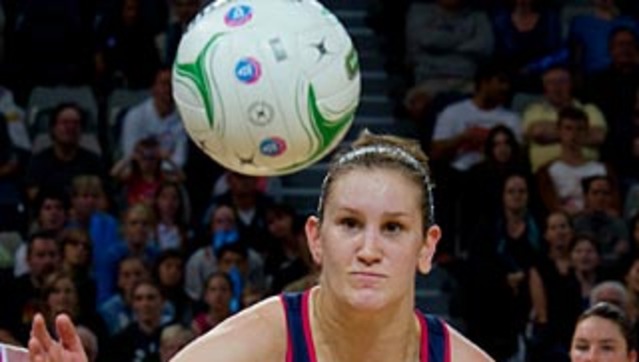 The final ladder positions mean nothing to the second-placed Melbourne Vixens; they are solely focused on winning the ANZ Championship.
The Vixens thumped West Coast Fever by 30 goals in front of a league regular-season record crowd of 8509 at Hisense Arena on Sunday and in the process set up a major semi-final date against Adelaide Thunderbirds in Adelaide this weekend.
If the Vixens can cause an upset against Adelaide, they will host the grand final. If they lose they will host the preliminary final.
Queensland Firebirds will most likely finish third and host reigning premier Waikato-Bay of Plenty Magic in the minor (elimination) semi-final this weekend, with the Magic to complete its season on Monday night.
The semi-final schedule will be confirmed this week.
Vixens captain Bianca Chatfield dismissed the notion her side will be out to avenge last season's grand final loss.
She instead said her side was confident its best was good enough to beat anyone.
"It's a completely different situation to last year and we have the confidence and belief in each other, so it doesn't matter where we finish, I still think we can win this thing," Chatfield said.
"I know we can beat all the teams in the top four, it's just a matter of us bringing the same performance we brought today. We need to take that intensity and effort from the first quarter and keep it going to the end of the last quarter."
The Vixens confidence was on show in the resounding win over the Fever, with the home side extending its lead at each change before crushing the visitors with a dominant final quarter.
Vixens wing attack Madison Browne was best on court, although Chatfield and Geva Mentor were instrumental in the defensive circle, while goal shooter Karyn Howarth shot a game-high 41 goals from 47 shots.
Vixens coach Simone McKinnis praised her side for its performance following two losses in the previous weeks.
"It was a great way to head into a finals series - I don't think we could have done much more," McKinnis said.
"The girls pushed on and built on the game throughout. We wanted it and worked hard for it."
Vixens goal attack Tegan Caldwell (16-18) was excellent in the first half in passing combinations with Howarth but tweaked her left ankle late in the second term and was replaced by veteran Sharelle McMahon for the second half, who shot 12 of 19. McKinnis said she expected Caldwell to be fit for the semi-finals.
ANZ Championship
Melbourne Vixens 69 (K Howarth 41 goals, T Caldwell 16, S McMahon 12) d West Coast Fever 39 (C Cox 17 goals, K Beveridge 13, C Bassett 7) at Hisense Arena on Sunday.