Coach 'swings' to English reverse
June 22, 2013
via
The Age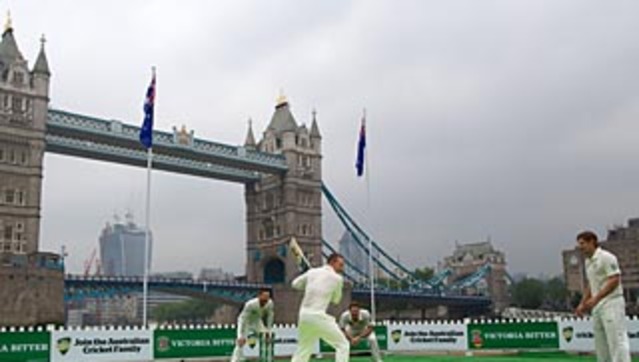 The man in charge of Australia's fast bowlers is so unperturbed by England's methods of gaining reverse swing that he will unashamedly encourage his troops to copy them during the Ashes.
Two national captains, Australia's George Bailey and South Africa's AB de Villiers, raised eyebrows at England's ability to make the ball reverse earlier than other teams during the Champions Trophy.
Suspicions about the techniques used to engender reverse swing have simmered since the English were accused of using saliva laced with glucose, from sucking mints, to keep one side of the ball smooth and shiny during the 2005 Ashes.
Australian bowling coach Ali de Winter believes the mysterious art will be important at Trent Bridge, venue of the first Test, and at the Oval in the series finale. ''I certainly think they've got some skill and we've got to see what they are doing and see if we can't do it better ourselves,'' de Winter said of England's ability to make the ball ''go Irish''.
''Towards the back end of games reverse swing is going to play an important part and we'll attempt to do it as soon as we possibly can.
''We think our attack is more suited to bowling conventional than reverse swing, but if the conditions are dryish, which they are saying they might be, we'll certainly be trying. We're not too concerned about how they do it, that's up to our batters to deal with.''
Analyst Simon Hughes wrote in the Telegraph that England's methods of aiding the ball's ''natural'' deterioration were legal. ''They are more forensic than any other team in caring for and buffing the smoother side, polishing it like a precious ornament and keeping it scrupulously dry,'' he wrote. ''Ever since Matt Prior took command of England's ball-management a few years ago, remonstrating with fielders who landed a bounced return on a green or moist part of the outfield, for instance, there is a culture of ball care that every player buys into.''
De Winter said he was not concerned about England's methods, ''particularly in one-dayers where the umpires get the ball back after every over, it's very hard to do anything untoward with the ball''. Australia does not have a designated ball-handler, but ''we try to keep it in as few hands as possible''.
Barring a calamity in Bristol, where Ryan Harris and Jackson Bird returned from injury for Australia A in a three-day game against Gloucestershire (and were upstaged by South Australian swing specialist Chadd Sayers' 3-24 on Friday), Australia will start the Ashes tour on Monday with a full set of quicks to choose from.
That is about the best that can be said of Australia's build-up, dogged as it has been by batting collapses, Michael Clarke's back problems and David Warner's drunken punch. The captain expects to play his first match of the tour against Somerset in Taunton from Wednesday. A decision on adding Fawad Ahmed to the Ashes squad is imminent.
No. 1 spinner Nathan Lyon was rested from the Gloucestershire game to give the selectors a longer look at Test aspirants Ahmed and Ashton Agar, but Ahmed had bowled just two overs by stumps on day one, while Agar grasped the wicket of countryman Dan Christian.
Mitchell Starc struggled in his only Champions Trophy match after ankle surgery, but de Winter said the left-arm quick's rhythm and confidence were improving.