From the gutters to the stars
July 26, 2013
via
Sydney Morning Herald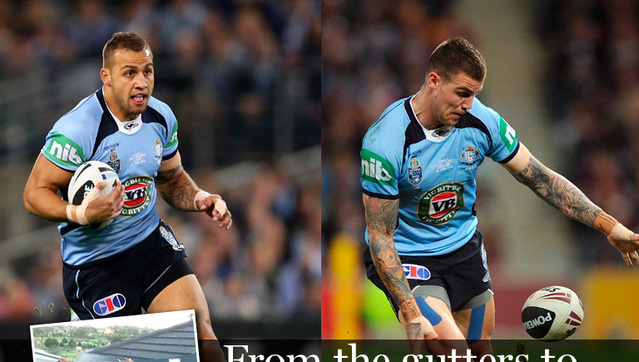 Let'a start on the rooftop, because that was the start of the end for Josh Dugan and Blake Ferguson - and almost their football careers.
The rooftop is where they found themselves the morning after a first-round loss to Penrith, in which Panthers players had specifically targeted Dugan. "Don't go off," one said to him as he lay down with injury that previous afternoon.
"You're our best player."
The rooftop is where Duges and Fergo had climbed, wanting a better view of the nearby golf course. "It's better up there," Dugan told his NSW teammates during Origin camp.
The rooftop is where Duges and Fergo immortalised the humble Pineapple Cruiser in the league lexicon and ensured their future sales negated the alcopop tax.
The rooftop is where they snapped a photo on their phones, with Duges sticking up his middle finger to the world and Fergo chuckling in the background, before posting it on Instagram.
That meant it was on the front page of the local paper the next day. "Not only was it on the front page of The Canberra Times," explains Raiders chief executive Don Furner, shaking his head, "but on the front page of The Canberra Times for the edition celebrating the city's hundredth anniversary. It was a special edition of the newspaper".
By the time Raiders coach David Furner had arrived, Duges and Fergo had come down off the rooftop and had made it to the loungeroom, but they had not stopped drinking as the rest of their teammates were doing recovery.
"Those two aren't the best people to be with each other," offers Anthony Mundine, who is Ferguson's second cousin but more importantly his hero. "They have misled each other. It takes two to tango. They are similar people in many ways. They are products of their environment."
This isn't a story about heroes and villains, redemption or wasted opportunities. It isn't about Generation Y and the sense of entitlement that young footballers seem to be regularly throwing back at their coaches these days. It isn't about pointing the finger of blame.
It is simply about two abundantly talented footballers with entwined careers drifted so far from the path. And how the Canberra Raiders decided there was only one worth saving.
It remains to be seen if Duges and Fergo will play against each other when St George Illawarra host Canberra at WIN Stadium on Saturday night, as tantalising as the prospect might be.
Dave Furner wouldn't reveal late yesterday if Ferguson, who was only cleared by the NRL on Tuesday to return, was mentally ready. If he does play on Saturday it will be for NSW Cup side Mounties, the feeder club for the Raiders.
Those close to Ferguson say their once strong relationship has been poisoned since the night they celebrated their selections for Origin II that ended in Ferguson charged for indecently assaulting a woman at Bar 2230 in Cronulla.
Ferguson does not feel his "bra" has stood by him as he should have.
"To be honest, if I was still in Canberra, I probably would've been in the headlines with Blake,'' Dugan said earlier this month. "I felt like I was more guilty by association than anything."
It is understood that specific remark doesn't sit well with Ferguson. It's ironic because Dugan looms as a key witness to the alleged assault, to which Ferguson has pleaded not guilty. The case returns to court in September.
After all that has transpired this year, Dave Furner was stunned when he was told of the incident involving Ferguson. "It was a massive disappointment," he says. "I couldn't believe what I was hearing when I was told it."
Don Furner confirms the club seriously considered sacking the 23-year-old, but didn't pull the trigger for two reasons. "Sacking him was discussed, and it was discussed at a board level," he says. "There was a little bit of, 'He wasn't with us and he wasn't with them'. We were all disappointed that he relapsed again. I can't recall anyone saying, 'Let's tear up his contract'. There had been murmurings but nobody has said that to us. We take into consideration what senior players say.
"But we also listen to the advice from fans and members and the vast majority of them were sick of us doing the right thing. Of getting bitten on the bum. The thinking was, 'Why should we do the right thing?'"
Ferguson's rap sheet at the Raiders details about five incidents. Dugan's totals 19, including three incidents involving police and one court appearance. Before Duges and Fergo, there was Todd Carney. His rap sheet runs for pages, including the involvement of police seven times.
There is an argument that the culture built at Canberra is to blame.
If so, how to explain Carney's fall from grace at the Roosters in 2011?
Ask Don Furner if the club was concerned about Ferguson being cut adrift only to see him emerge at another club, just like Dugan and Carney, and he shoots back: "Without a doubt. We've had those conversations with the NRL, and they've intimated to us that the new regime might not be the same scenario. The Josh Dugan situation might not happen. There might be harsher penalties."
The second reason for keeping Ferguson goes deeper. Canberra's frustration with Dugan wasn't a specific issue with alcohol, but authority.
Like Carney, Ferguson trains and plays injured.
Canberra players grew tired of watching Dugan sit on the bonnet of his car overlooking training, only to see him splashed all over the back page of the local paper when he had recovered from another injury and was set to be rushed back to save the day.
Ferguson's issue isn't authority but alcohol. It always has been. When coach Ricky Stuart left Cronulla three years ago, he told the Raiders to sign Ferguson, convinced the bright lights of Sydney would ruin him.
After the rooftop incident with Dugan, six weeks of abstinence materialised into an Origin recall. Ferguson's form demanded selection in the NSW side. He was the Blues' very own version of Greg Inglis.
Dave Furner was cautious. "When he was selected, I was worried because he was getting a lot of attention and the worst trap that he could fall into was the idea that, 'I've changed'."
The way Don Furner sees it, Origin selection was the best and worst thing that could've happened to their troubled centre.
"As I've told the NRL many times, what we were disappointed with was that we had a tight structure around him from March until May and that certainly wasn't the case in the first Origin camp," he says.
"There's a fair bit of drinking in those camps. It is a strict environment now and Canberra's a small place. When we hear things, we jump on them. I'm still flabbergasted at some of the drinking that happens in Origin camps."
Has he expressed this anger to higher powers? "I've expressed it to a fair few parties, including the NRL."
That is not to say that the Raiders are blaming anyone for Ferguson's predicament. They simply know he is worth saving, when Dugan had to be let go.
"The feeling was one was making an effort and trying and complying, and one wasn't," Don Furner says. "We know Fergo requires a lot of attention, and there can be rifts in a club when some players get certain allowances. All I can say is that sometimes you have to lower the crossbar for certain people.
''Sometimes, it isn't always exactly the same. Some people didn't have the advantages that others did, and you have to work harder with him."
Duges and Fergo were not raised like the affluent families the NRL want to lure to a polished game lacking shoulder charge and biff.
With trademark rat's tail firmly in place, Dugan grew up in a housing commission in the Canberra suburb of Tuggeranong.
Ferguson's backstory is heartbreaking. Government welfare officers ripped him from his mother's care when he was 13 before placing him in the care of his grandparents. During his time at the Sharks, his mother Retta would stand among the faithful and yell to her boy, trying to make peace with him.
"Obviously, his upbringing is a factor," says Mundine. "But with that, too, it can be negative or a positive. If I was in that predicament, and I had that adversity growing up, I would use that to motivate me. To be better than what I am now."
After Ferguson was charged, the Raiders entrusted Mundine with much of his rehabilitation. For all the vitriol thrown at the footballer-cum-boxer, and beneath his thick veneer of showmanship, there is a special soul who has steered clear of alcohol and drugs.
When he was younger, Ferguson adored Mundine so much he would wait outside Kogarah Oval for a signature even though they are related. Mundine could not be any clearer when he told his cousin what he needs to do.
"You're the type of guy - like me - who can get high on life," he told him. "You don't need any drug or alcohol to get you there. You can be high on being happy and settled and content."
In the past month, Ferguson has followed Mundine to Griffith to work with indigenous children, boxed at the National Centre of Indigenous Excellence in Redfern, and played assistant coach to Mundine for the under-12s footy side he takes care of.
"He inspired the kids, he played with them - he was like one of them," Mundine says. "When we got some bad calls during the game, he'd show emotion."
What else did Mundine tell him?
"I told him not to be a follower, and to be a leader. I happened to make the right choices in life, because my will was so strong and I was a leader. I'm a leader of myself. He needs to work on that art, because he's a follower."
Dugan is a leader. Right now, he's heading in the right direction.
He tells those close to him he needed a change, to escape from Canberra, and that was clear to all when he failed to front the Raiders board meeting that eventually led to his termination. (NRL bosses John Grant and Dave Smith were also in attendance.)
For their part, the Dragons could not be more pleased about Dugan joining them mid-season.
"I honestly can't fault him," gushes coach Steve Price.
"He talks up in video sessions, he's intelligent when it comes to rugby league. He's helped a lot of players out, and challenges a lot them around him. He's won three man-of-the-match awards for us, and his two Origin appearances were outstanding.
''He's never expressed to me that the change has been good for him, but from the outside looking in it has done wonders for him.
''It's great when people overcome what he's had to."
The Dragons did not place any alcohol or social media restraints on him, despite the fact Dugan's suggestion that a protagonist should "end it" on Instagram cost him a fat deal at the Broncos. "I've got no issue with him having a beer," Price says. "You have to leave that responsibility to them. He has to know when to make smart choices, and when to be home.
''It's a work in progress."
A new three-year deal worth $2.4 million looms, and that would likely make Dugan the highest paid player on the Dragons' roster.
With coin like that, he can buy a rooftop instead of sitting on one.
As for Ferguson, the small steps back start on Saturday night - and even then it is uncertain with indictable charges hanging over him.
Mundine is firm about how fundamental football is to his cousin's comeback.
"Important? Footy's the answer," he says. "It's the only answer.
''He's too much of a talent, too much of a freak, to blow it again.
''The field is the outlet, when everything else is non-existent. That's what you are born to do. Footy is the easy part. I told him, 'This is your time. And you want to give it away with bad choices?'"
Mundine says Ferguson has all the attributes of Greg Inglis.
But Dave Furner reckons this: "He should be his own player."
His own man, too.