Kat Von D splits from Deaudmau5
June 27, 2013
via
BANG Showbiz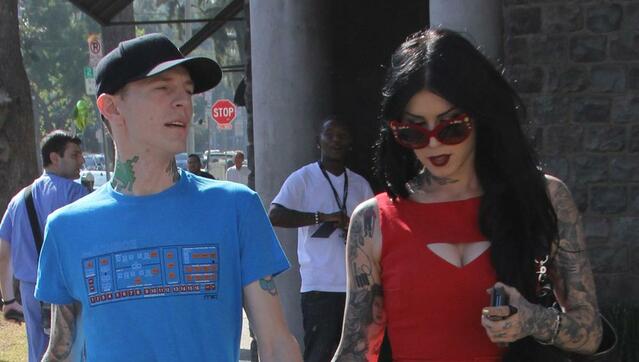 Kat Von D has split from her fiancé Deaudmau5.
The 31-year-old tattoo artist announced she had parted ways with the superstar DJ for the second time yesterday evening (06.26.13) because he has allegedly been cheating on her.
She wrote on Twitter: "Man, I'm a fool... Cheating on your loved one is the most hurtful thing one could do. I hate to have to admit, that this relationship is indeed over."
Kat then added, "Onwards and upwards", sharing a photo of a heart inked on her hand along with the words, "Go out into the world with Love".
Her fans were quick to offer support, with one posting, "Don't take him back no matter what. Ur worth more than that", and another incredulously ranting, "But you're so perfect. Why would anyone do that to you?!"
The 'L.A. Ink' star began dating Deadmau5 - real name, Joel Zimmerman - in September 2012. The pair broke up briefly in November amid rumors he had cheated on her, but reunited shortly afterwards, with the Canadian DJ proposing to Kat via Twitter in December.
The couple - who have matching star tattoos under their eyes - were planning an underwater-themed wedding in August inspired by one of their favorite authors, H.P. Lovecraft, which they hoped would be "the furthest thing from traditional."
The ink-mad beauty was previously engaged to Sandra Bullock's ex-husband Jesse James, and publicly accused him of cheating on her with over 19 women after their split.