Double act in the spotlight
July 01, 2013
via
The Age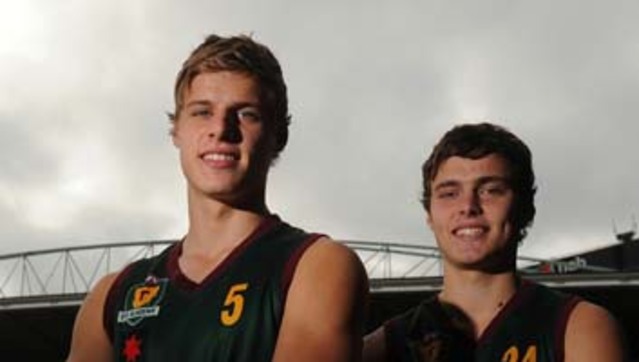 When Kade Kolodjashnij was added to the AIS-AFL Academy late last year, he wondered about a few things. Would he be as good as the other players? Who would he talk to, and would anyone talk to him? And how would his twin brother, Jake, feel about missing out? They had never really been apart, after all.
He was right to ask that last question. ''I was definitely a bit jealous. He got a trip to Europe out of it!'' said Jake, who stayed at home in Launceston as Kade headed overseas, driving himself to school, to training and home again, in silence. ''It was a bit different, but I was really happy for him as well, of course. The strangest thing was not having him there, because it was only two weeks but it was the longest we've been away from each other. I got used to it, but it was weird having no one to talk to.''
That was three months ago. Since Kade got home he has felt like a more capable, confident player. As it turned out he could keep up with the best kids in the country, and he could play just as well as them. Playing off half-back and through the middle he has turned himself into one of this year's most popular draft prospects.
''I didn't know where I sat when I first got asked to join. I wasn't sure I was good enough, but training with the other boys and playing, I felt like I could compete. I felt like I was one of them,'' he said. ''I've got a lot of belief out of it.''
So has his brother. As Kade puts it, Jake is ''taller, stronger and has different coloured hair''. Jake didn't get access to the sort of coaching and advice that Kade did, but he has asked his brother questions about all of it, and learnt things through him.
Playing at centre half-back for Launceston, and Tasmania's under-18 team, in town for the conclusion of this year's national championships, he has felt like a more assured player too. Not to mention a competitive one.
''As soon as Kade got picked I told him, if you learn anything interesting or new, let me know,'' Jake said. ''He's mostly told me about how serious the preparation is and things like that, how to read nutrition labels and be careful about what I'm eating. So I took it all right. I wasn't too fussed that I missed out, but I didn't want to drop off, either. I want to do my best to stay up there with Kade and make sure he doesn't get too far away from me.''
Kade missed his brother while he was away too, although touring Milan, London and Copenhagen with the AIS group meant he had plenty of distractions. He isn't sure how he and Jake will cope should the draft take them to teams in different cities, but hopes it's something they have to deal with.
''I hope it happens. I'd love it to happen,'' he said. ''I don't think Jake got as much opportunity as me, last year. He's going really well. I hope he keeps showing everyone what he can do.''