Watson cracks ton before lunch
July 02, 2013
via
The Age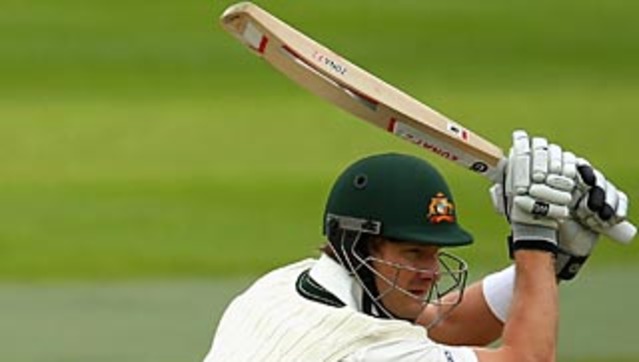 No wonder Shane Watson wanted to open. The new opening alliance between a rejuvenated Watson and resurrected Chris Rogers made a bright start in the shadows of Worcester Cathedral as the former vice-captain powered to a century before lunch on Tuesday in Australia's final warm-up for the Ashes.
The opening stand of 170 was just what new coach Darren Lehmann had in mind when he united Watson and Rogers for the Ashes. The right-handed Watson blazed while the veteran left-hander collected runs in his unobtrusive but effective way.
Watson shredded the modest Worcestershire attack for 109 from 111 balls, having pounded 90 against Somerset in the previous match. It was his first century at first-class level since his second Test hundred in Mohali in October, 2010. In the two-and-a-half years that have elapsed without a ton, Watson's Test career has been dogged by injuries, poor form and general unhappiness.
Already, Lehmann's proactive decision to restore Watson to his favourite position and introduce Rogers after a five-year absence from the international scene has cast Australia's Ashes hopes in a healthier glow, although what matters is whether Watson can replicate his form against England's high class attack in the Test series from July 10.
On Tuesday he was switched on from the start, caressing the first ball of the innings for four in front of point and unfurling a total of 14 fours and two sixes, the second a monstrous straight hit off medium-pacer Jack Shantry.
He reached his century from 94 balls three overs before lunch, but skied a sweep shot shortly after the break and was caught at deep backward square leg. Rogers lifted his tempo, striking 12 fours in his innings of 75, before a leading edge went to short cover.
Ed Cowan, displaced from the opening position by Rogers, came in at first drop needing runs to seize another position in the order.
He made a positive start, hitting off-spinner Moeen Ali for six over mid-wicket, but then he and Michael Clarke ground to a halt. They absorbed 34 balls without a run, a streak broken only when the captain edged through slips to the boundary.
The Australians scored 150 in the first session and 98 in the second, to be 2-248 as a queue formed on the steps of the Ladies Pavilion for tea.
Clarke lacked his usual sparkle in his second game since his back flared up. He was 26 not out at tea, and there was a stiffness about his batting. Cowan was unbeaten on 33.