Foundations of a bitter rivalry
July 13, 2013
via
The Age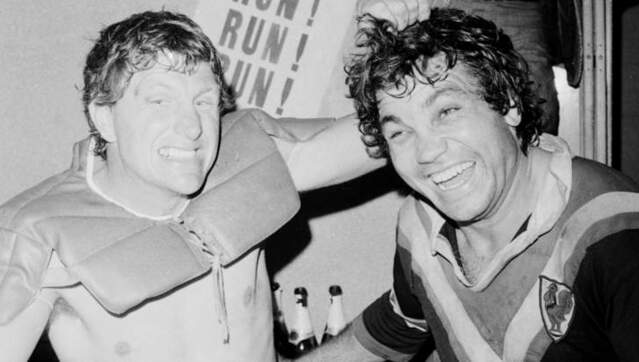 After captaining the Kangaroos to victory in the 1970 World Cup, Ron Coote returned to South Sydney convinced he was worth more than he was being paid.
He was at the peak of a career that began in 1964, bathed in red and green, alongside some of the game's greats, much of it under legendary coach Clive Churchill.
Inspired by Dennis Tutty – who was challenging the league in a restraint of trade case after being denied a transfer from Balmain – Coote refused to play after Souths rejected his request for a pay rise.
Sitting out wasn't in Coote's nature, though, and after five games he returned to help Souths triumph in 1971, the last of their 20 premierships. Coote seemed destined to remain a Rabbitoh. But Eastern Suburbs coach Don Furner had other ideas.
''Don would wait outside my place for me to come home with the beer truck I drove in those days so he could talk to me about going to the Roosters,'' Coote says. ''Eventually, I was enticed over.'' Coote still regrets sitting out those games in early '71. But he didn't see much wrong with going to the neighbouring club after serving the Rabbitohs so well. He was stunned by the reaction.
''All this hate mail came in. The reaction from the Souths people was huge,'' he says. ''One woman said she was putting a 'gypsy curse' on me. 'You'll never have any luck for the rest of your life', she said. Another one sent a letter saying 'We used to have a rabbit called Ronnie Coote and when you left, we ate him for lunch'.''
Coote had inadvertently ignited years of simmering tension between Easts and Souths, kick-starting one of the code's fiercest modern rivalries.
There's Canterbury and Parramatta. There's the Dragons and Cronulla. There's Manly and everyone else. Then there's Souths and the Roosters.
It's a hatred built on envy, player-poaching and territorial disputes.
It's a mythology emanating from a notion – or fact, to many – of Souths as working-class battlers and the Roosters as chequebook mercenaries. Neither is exactly right. But it has fed a Silvertails and Fibros-style contest over generations. And, with the two great clubs first and second on the league ladder just eight rounds before the finals, nearly all genuine league fans are pondering the prospect of a fantasy season decider.
''I've thought about what the day would be like,'' league historian David Middleton says.
''Souths fans have been starved for 40 years. They'll go crazy. And, against the Roosters, the rivalry thing would be huge. In the 1960s the biggest rivalries were probably St George for Souths and Canterbury for the Roosters. But now Souths and the Roosters is probably the biggest rivalry in the game.''
They haven't met in a grand final since 1937, nor a finals match for 75 years. ''It's been so long since they've played at that top level,'' he says.
''They played each other in the very first final, they're two foundation clubs and they're neighbours – there's a natural rivalry. I'd relish a grand final between them.''
So would Coote, who loves both clubs but knows his move to Easts, where he won premierships in 1974 and 1975, ''caused part of the rivalry''. ''Before that, it was just a local derby, like Wests and Balmain,'' he says. ''But me going over caused a problem.''
Souths fans were infuriated Coote left. However, Fairfax Media can reveal just how close he was to never having played for the Rabbitohs. It's a story that needs some background.
Before Tutty's court case, players had to represent the club from the area in which they lived. In From Where The Sun Rises – 100 Years of the Sydney Roosters, Geoff Armstrong writes that Easts' boundaries stretched south to Long Bay. But when St George entered the competition in 1921, the NSW Rugby League accommodated the new club.
Parts of Souths' area around Redfern and Alexandria were dropping in population and the league re-zoned Randwick, Coogee and Maroubra to Souths territory. Easts did not protest, as much of Maroubra was sparsely populated. But, Armstrong writes, despite Easts gaining the city area when Glebe left the competition in 1929, the club long rued the league's handing over of Randwick, Coogee and Maroubra to Souths and wanted parts back.
Coote's father Jack lived in Meek St, Kingsford, the house young Ron was to grow up in. As it was in Roosters territory when Jack was growing up, he played for the Roosters, winning a premiership.
However, when the restructure moved the Souths zone three streets down, to include Meek St, Ron Coote was deemed a Rabbitoh.
''And that's how I ended up playing for Souths instead of Easts, where my father had played,'' Coote says. ''If they didn't move the area three streets over, I would have been a Rooster probably my whole career.''
So much has changed since then. Players are free agents and money talks. Mark Courtney, who wrote the Book of Feuds, commissioned by Souths owner Russell Crowe to chronicle the club's rivalries, says the hatred stems from geographical proximity and cultural differences.
And, it runs deep.
''The Roosters have always been seen as having a lot of money,'' Courtney says. ''As money became important in footy after the 1970s, Souths had less and the Roosters had more. Roosters fans considered Souths a low-end club, I reckon, not worth spitting on, and Souths fans always saw the Roosters as a big-end-of-town club, which never developed juniors, just bought players.''
Courtney says Souths had a ''much bigger junior nursery'', while the Roosters, without the zonal regulations, picked off Souths' best players.
''Roosters fans will tell that just as many players have gone back the other way,'' he says. ''But I think it was always a case of when players were reaching their potential, the Roosters would come in and buy them. And when players were past it, they'd offload them and Souths would pick them up.''
Terry Fahey, Robert Laurie, Ashley Harrison and Craig Wing were among those poached at their peak, Courtney claims.
But those days, too, are long gone. Even Courtney admits that: ''It's changed recently because Souths are financial powerhouses now, too.''
Other splashes of fuel have been thrown on the fire, from bad blood over collapsed amalgamation talks around Super League to the real blood spilt when Souths forward David Fa'alogo king hit Rooster and Souths junior Braith Anasta in a match in 2008. It's all added up to a seething rivalry.
''It's really developed in recent years,'' Middleton says. ''When Souths came back into the comp they played the Roosters in their first game. It's just gone from there.''
League historian Sean Fagan says a grand final between the two would be a timely reminder of league's heritage.
''To have two foundation clubs, side by side, back up the top is great,'' Fagan says. ''It's a reminder that the NRL began as a Sydney suburban competition.''
Coote says he feels privileged to have played for both clubs. His legacy continues to this day, with the two sides playing for the Ron Coote Cup when they meet.
''You've got no idea how many people, when you talk about the history of Easts and Souths, have something to say to me about it,'' he says.
''It would be unbelievable to have them in the grand final. You've got to admire what the Roosters have done. They've got great players, a new coach and pulled it together. And Souths got through the Super League war and come out the other side. They've both got a great history.''