O'Rourke happy to take rough stuff on the chin
July 13, 2013
via
Sydney Morning Herald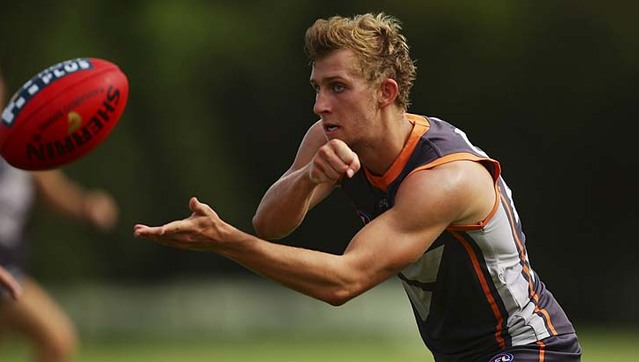 If any of Sydney's players think they can put debutant Jono O'Rourke off his game with some rough stuff, they had better think again. This youngster is harder than most 19-year-olds.
O'Rourke may still be a few seasons away from developing an AFL footballer's physique but there can be no doubting the courage of last year's No.2 draft pick.
The highly rated teenager showed how tough he was earlier this season when he played out a game in the reserves with a jaw broken in two places. ''I was going for the ball, all I remember is going down to pick it up and I copped a bit of a shoulder to the jaw in the second quarter,'' said O'Rourke, who will make his AFL debut in the derby on Sunday.
''I ended up playing the rest of the game and not realising it was broken until afterwards. It was bleeding a bit at half-time but I played on. After the game I could hardly speak, I was in pain. It was a long bus ride home [from Canberra] with a broken jaw. It was a painful few nights after that.''
Sydney's Luke Parker played on for another two quarters in a game last year after suffering a hairline jaw fracture from a clash with Greater Western Sydney's James McDonald. Despite the injury, Parker did not miss a game, although he was helped by a two-week break.
O'Rourke's break was far worse and required surgery so doctors could insert two plates. If the six weeks on the sidelines were not bad enough for him, O'Rourke's eating habits were drastically altered. Moved to a liquid diet, the youngster lost four kilos at a time when he is trying to add weight.
''There was puree and plenty of soup in the early days,'' O'Rourke said. ''As it went on I slowly ate more and was able to eat more and began to chew. It took me a month to be able to eat a steak.
''That was a tough period trying to put on weight as well, not being able to eat solid meals.
''I got sick of soup pretty quickly. I was trying to squeeze a lot into my mouth but I couldn't open my mouth as well.
''You start to get sick of the puree stuff and you just want to eat parmas and steaks.''
The jaw fracture and a hamstring strain during the pre-season forced O'Rourke to wait until now for his first taste of the big time.
A Richmond supporter growing up, O'Rourke idolised Matthew Richardson but, at 187cm, is better equipped to follow in the footsteps of his other boyhood hero Brett Deledio.
Last year he watched Trent Cotchin very closely, hoping to pick up tips on how the elite midfielders played the game.
As a prolific ball winner at under-age level who earned All Australian honours in the national under-18 championships, O'Rourke was never going to last long enough in the draft to make it to Richmond, who had pick nine.
Despite occasional pangs of homesickness, O'Rourke, who grew up in Gisborne on the fringes of Melbourne, has happily settled into Sydney where he lives with fellow 2012 draftee Lachie Plowman and ex-Hawthorn defender Stephen Gilham.
''Everyone is in a similar position moving away from home so you all stick together and have a good time with a lot of the boys, which makes it a lot easier,'' O'Rourke said.
''I've never been homesick. It's more going home for a short break it can be hard to come back but once you get to a week, you get back into the swing of things - you get used to it.''