July 21, 2013
via
The Age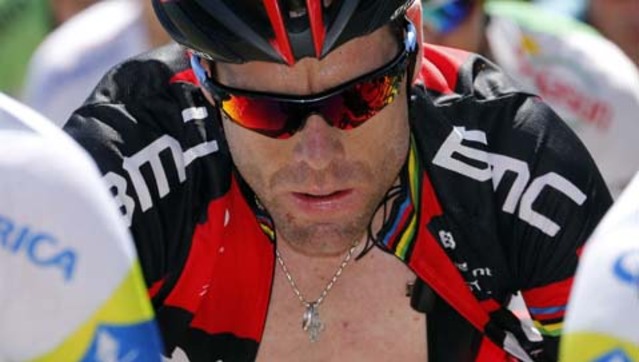 Cadel Evans steps from his team bus at the start of the last mountain stage of the Tour de France. He gives a sweeping wave and a smile to the throng of supporters who have waited for up to an hour to see him. But try as he might, he cannot hide his deep fatigue.
The Tour is like that - it may reward riders with their greatest triumphs, but it is also an unforgiving beast that can tip them beyond breaking point.
Evans, 36, who in 2011 became the first Australian to win the Tour after several near misses, including second places in 2007 and '08, is not quite broken on this morning, on Saturday.
But he is close to the brink before signing-in for the 125-kilometre, 20th stage from Annecy to the mountain finish of Annecy-Semnoz.
Evans says he is ''absolutely exhausted,'' and while hoping he can ''be useful and do something for the team'', his goal is to reach Sunday's finish in Paris.
''I'm riding in the group at the back. Mentally, it doesn't give any kind of boost. But I don't want to quit, that's for sure,'' Evans said.
Which raises the inevitable question: where does he see his future in the Tour and the other two grand tours - the Giro and Vuelta a Espana?
He says he will first ''get a good idea of physically why [he underperformed in the Tour]''. Then he will assess ''why things went this way''. And only then will he ''make a decision about the future, and of course see what the team wants''.
Evans then raises another smile, signs some autographs, mounts his bike and rides off for another punishing day that ends with Colombian Nairo Quintana (Movistar) winning and Evans placing 88th at 18 minutes 26 seconds to drop from 36th overall to 39th at 1hr 30mins 57secs behind British race leader Chris Froome (Sky).
Some big decisions await the former world road champion and his team with whom he is contracted until the end of next year.
And change is likely, says BMC team president Jim Ochowicz. ''For Cadel this has been a hard Tour … emotionally, probably,'' Ochowicz told Fairfax Media. ''It's been tough. He was the guy who won the Tour two years ago. Now he is here in the wrong groups. We've got to do a re-evaluation … [of] what the future looks like.''
Ochowicz suggested that Evans might attempt a full tilt at next year's Giro d'Italia in which he placed third this year - indicating BMC might grant his anointed successor, American Tejay van Garderen, 24, his chance to lead it at the Tour. Although, after placing fifth overall last year, van Garderen, like Evans, has also disappointed in this year's Tour. Ochowicz could not say if Evans would race the Tour if he did go all out for next year's Giro. Nor would he comment on how long Evans should continue racing.
While Ochowicz stresses that BMC still values Evans highly ''as a racer'', he says any question of retirement is for Evans to answer and not the team.
''He has to make these end-of-career decisions himself. They are influenced by one's own family and friends … but he is at that reckoning point,'' he said. When retirement does come, Ochowicz hopes Evans can appreciate all he has won, rather than lament on what may have been.