July 20, 2013
via
Sydney Morning Herald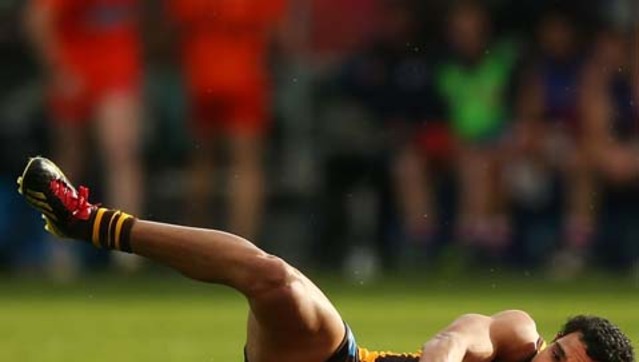 Coach Alastair Clarkson joked that his players had left for the airport five minutes before the final siren against the Western Bulldogs, but saw enough good in the performance of a Hawthorn team whose absentees included Lance Franklin, Sam Mitchell and Shaun Burgoyne to put the fadeout behind him and turn the focus to Essendon next Friday night.
''It's good that you guys are still here, actually - our guys left five minutes before the end of the game, jumped on the bus and went back to the airport,'' Clarkson said of a hard-fought encounter the Hawks led by 44 points 24 minutes into the final term, but won by just 19 points after the Bulldogs kicked the final four goals of the game.
''We were terrible the last little bit, but it was a pretty tough encounter - tough conditions, heavy ground. We couldn't shake them off … well, we did shake them but then let them back in in junk time at the end of the game. That was a bit disappointing.
''We're not pleased that we didn't finish the game well, but we've got to freshen ourselves up and get ready for the Bombers now.''
Clarkson expects to have Mitchell back in the centre square against Essendon after his stoppage star fell ill overnight and was a late withdrawal against the Bulldogs, paving the way for Brad Sewell's return.
Franklin's knee is a less certain prospect. ''Bud should be a good chance to play, but having said that, we thought that this week, too, so we've just got to see if that's settled,'' Clarkson said. ''He's hopefully going to be running over the course of the weekend and see how he's placed.''
Bulldogs coach Brendan McCartney noted Clarkson's humour, and said football was ''a lot of fun when you win all the time''. He praised the Bulldogs' resilience and predicted his team was closing in on a win.
''I'm enjoying working with a team that doesn't lay down and wants to keep fighting,'' he said. ''We had a bad loss four weeks ago [against Melbourne]. We had a tough day in Canberra and just got over the line. In the last month, we've hung in and hung in and hung in, and we'll get a win soon if we keep doing that.''
Of his team winning the clearances 39-32, Clarkson said it was ''really pleasing that we did something few other sides have been able to do throughout the course of the year''. He attributed a low inside 50 count of 49 (still 10 more than the Dogs') as much to the opposition's good work as his team's shortcomings. ''But we must have done enough to them - they only went inside 39 times for the game, and at the 26-minute mark of the last quarter they'd only kicked seven goals for the game.''
Clarkson described Sewell as an important part of the Hawks' mix who had been dropped after performing below his standard but did well against the Dogs. ''And that standard's been very high for a long period of time. There's no shame in going through a tough trot every now and then. Hopefully, he's been through that and he's out the back end of it now.''
Bradley Hill again impressed with 24 possessions and found space and run where others suffocated in an intense encounter. Clarkson described him as ''just a pup'' in AFL terms, but was impressed with his efforts as a link player.
The Bulldogs will search for a fifth win without Brett Goodes, who broke his arm late in the game.
''We're running games out pretty strongly but we keep breaking bones,'' McCartney said, praising his older players for willing their team to a strong finish.
He described Ryan Griffen, whose 37-possession game was the eighth time this season he has racked up more than 30 touches, as ''clearly our most dynamic player'' but also the Bulldogs' most consistent, and said Griffen was also desperate for a win.
Luke Hodge provided the afternoon's highlight with a smother off Griffen's boot and a 65-metre torpedo goal, but McCartney was pleased that Mitch Wallis stuck to his task on the Hawks captain: ''I just asked him [Wallis] his first thoughts on him and he said, 'He's just ruthless, Hodgey'.
''I remember him being by himself in a big game about five years ago and I made something in my head that day that whenever Luke Hodge is in the other team, don't let him run around by himself.''