Cheers music to Cloke's ears
July 22, 2013
via
Sydney Morning Herald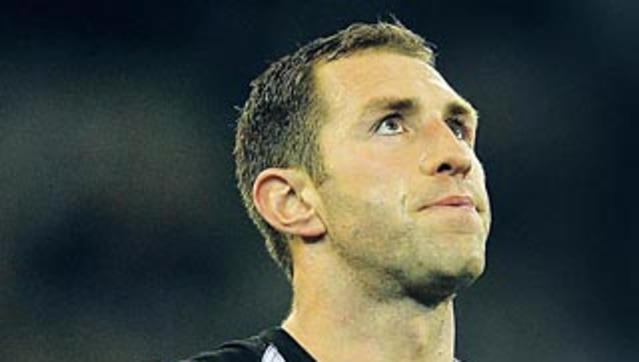 Travis Cloke may be searching for his iPod again after his goalkicking was astray for a second game, this time proving costly in Collingwood's shock loss to the Gold Coast on Saturday.
A week after a wayward 2.5 in a win over Adelaide, the power forward contributed 2.4 in the loss at Metricon Stadium that derailed the Magpies' bid for a top-four berth. Cloke kicked three behinds in the first quarter and later had one miskick when within range, prompting coach Nathan Buckley to express his frustration.
''It has come back to bite us on the arse eventually, hasn't it?'' he said of the inconsistent goalkicking, not just of Cloke but also by his teammates.
''Clokey was one of the reasons; one of the players who didn't take his chances. In the end there's six, seven, eight opportunities we really should have converted, especially early, and then the game changes.''
Just three weeks ago, Cloke was superb as he booted 5.1 on Michael Jamison in a stirring win over arch-rival Carlton.
He had 2.0 against Port Adelaide a week earlier, and 5.1 against the Western Bulldogs in round 12. He also sits in equal-fourth spot with 45 goals in the race for the Coleman Medal.
While the yips have started, the Magpies are encouraged that he is still winning the ball, averaging 6.8 shots at goal a match.
Goalkicking great Matthew Lloyd says he has noted a change in Cloke's ball drop in recent weeks, and that his left goalkicking leg has been swinging across his body.
Triple Brisbane Lions premiership full-forward Alastair Lynch remembers having the yips during his 633-goal career, and says it's important Cloke focuses on the ball drop.
''I noticed on a couple of occasions his ball drop wasn't straight and that just causes the problems,'' Lynch said of Cloke.
''I know just from my own experience, being someone who dropped the ball from a reasonable height, fairly high, I just went through times where it seemed mechanical. My shots didn't flow, and then once it gets into your head, it can be a battle until you break that cycle.
''Especially at the start of games. If you miss a couple of … the ones everyone expects you to kick, that just puts you behind the eightball for the rest of the day.
''That can extend for a longer period. I went through one of those periods, and obviously he did a couple of years ago. It just looks like he is in one of those cycles at the moment where he is not hitting the ball on his boot. His drop hasn't been as good as it normally is. That's the mental part''.
This mental burden can be exacerbated by the dread of wasting the good work up the field of teammates, as Magpie Scott Pendlebury alluded to on Saturday.
''As a forward, you feel that pressure because you know there has been a lot of hard work up the field, so that just compounds the problem. You do feel you are letting down your teammates,'' Lynch said.
Cloke revealed in early 2011 he had taken to listening to crowd noise at training through his iPod in a bid to help improve his focus when taking set shots. He finished the year with a career-high 69 goals.