Stability is the key for Tiger
July 23, 2013
via
Sydney Morning Herald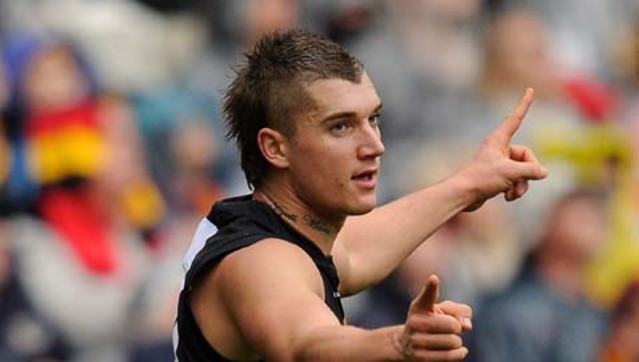 On the one hand, Dustin Martin is one of football's good news stories for 2013. Barely 22, the prodigiously talented young Tiger began the season under a cloud from which there seemed no escape after a pre-season beset by innuendo and genuine trouble, culminating in a subtle form of intervention by Richmond.
There was high anxiety for both player and club as Martin was coming off a 2012 campaign which failed to live up the standards he had set the previous year - his second in the AFL.
Martin's problems were being investigated among a series of sinister off-field tales of wild summer behaviour at a time when the game was bracing itself for an illicit drugs summit. The rumour mill became volcanic, but all along the Tigers protected their man.
Since the season started, Martin has found refuge in the game, which seems to come so naturally to him. As his club looks headed towards its first finals series in 12 years, the brilliant young player probably sits in the top five in the club's best and fairest, and near the top of the competition in score assists. He should have kicked five goals against Fremantle on Sunday.
Now the bad news. Martin is out of contract and there is a significant gap between what he is asking to play for Richmond for the next two years and what the club is offering. He won plenty last time around because his manager, Ricky Nixon, played the Tigers off against the fledgling Greater Western Sydney and leaked reports Martin had been offered staggering sums by the Giants. (The Giants have since denied they made an offer.)
Martin re-signed for a reported $450,000 and the reports now are that whatever the Tigers and their new football boss Daniel Richardson have put on the table - other clubs have offered $150,000 more.
Martin is now being managed by Ralph Carr, the former Carlton director who was in Sydney this week amid strong speculation that, should Martin walk out of Richmond, his home of choice would be Sydney, which is where his father lives.
And yet the Giants have again denied they are looking at Martin and Swans boss Andrew Ireland on Tuesday ruled out making the young Tiger an offer. Just which clubs are looking at Martin remains a mystery.
So if it is true that Martin is looking to leave Richmond if the club cannot come to terms with him on money, Sydney does not look a likely home for him. Richardson's view appears to be that the Tigers will no longer over-pay its players to retain them.
It remains a concern that, with August just around the corner, neither Martin nor Jack Riewoldt have signed, but someone should advise Martin and his management that they should back his talent and sign now for two years.
Martin's upbringing was not easy, but he appears to have found a home at Tigerland where he feels secure, happy and well liked.
Captain Trent Cotchin reportedly played host to Martin, his house guest over Martin's troubled summer, and continues to treat him as something of a younger brother.
Club leaders Chris Newman and Brett Deledio also work a fine line between being teammates and guardians.
Club president Gary March housed him for close to two years and the Tigers' development coach, Mark Williams, has built a strong relationship with the players for whom a change of routine remains an issue.
Richmond, according to AFL head office, deserves significant credit for its management of a talented but occasionally wayward young man for whom football has became a saving grace.
It is significant that just over a year ago, Martin was suspended for disciplinary reasons and was a spectator when the Tigers lost in Cairns to the Gold Coast Suns, while this year he starred and Richmond won.
Perhaps for Martin, management will be the best the club can hope for and that is no small thing. Surely those around him away from the club can see that stability in his case is something money cannot buy.