Mickle takes silver in Moscow
August 18, 2013
via
The Age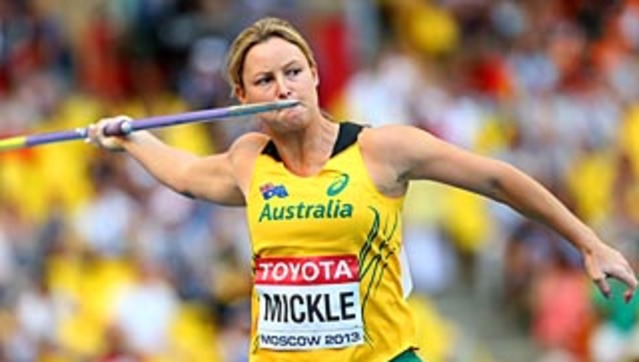 Moscow: Kim Mickle's cunning boom tactic of running in and thinking of nothing but throwing the javelin as far as she could delivered the Australian a silver medal at the world athletics championships on Sunday.
Mickle became Australia's third medallist of the championships and the second in 24 hours when she threw two personal bests to win silver, with her best throw of 66.6 metres being just 20 centimetres short of a national record.
Her teammate, Victorian Kathryn Mitchell, finished fifth after throwing a season's best 63.77 metres in an outstanding night for Australia's throwers.
"It was the scariest and funniest thing I've every done in my life," Mickle said. "It's a dream come true. I couldn't ask for anything better and I honestly feel there is more there. It's such an exciting time for me."
Mickle adopted her promised tactic of clearing her mind and just going "boom" when she ran in for her second throw, an effort that would elevate her into second place, a position from which she was not dislodged.
"The boom tactic came out. It was always going to be a hit-and-miss sort of thing," she said.
"The Russians all got behind me on that last throw and I boomed the hell out of it," she said of her final 66.6-metre throw.
By the time Mickle took her last throw, she was already certain of silver. She had hugged Mitchell to celebrate and stood at the top of her run with a big smile on her face. She ran in with freedom and went, well, boom.
"I almost got my Aussie record. I'll get that next year," she said. "It shows that rather than letting it get you down in the dumps you use it as fuel.
"That's what I've done this year and it's got me a silver medal."
That final liberated "boom" throw went farther than she ever has thrown but was still just short of German Christina Obergfoll's 69.05 metres. It was enough, though, to overcome the cheering from the crowd in the Luzhniki Stadium for local defending champion Maria Abakumova.
Mitchell admitted that she had taken a different mental approach to throwing in the aftermath of a disappointing Olympics. Working with the team's sports psychologist she first changed her behaviour on the field and turned her back to other throwers and tuned out of anyone else's throws.
She then distilled her thoughts for each throw to just two key points and did not try to tinker endlessly with her technique between throws. These changes yielded immediate results this year when she consistently threw in the mid-60 range during the European season.
Then, ahead of the world championships, she distilled the thought process even further and contrived the "boom tactic". That involved clearing her mind of everything technical and just concentrating on distance.
"When I do go for it, that's when my consistency tends to go out the window," she said of why she only approaches her throws this way occasionally.
Mickle said she kept reflecting on how radically things had changed over the last 12 months.
"It keeps popping into my mind how devastating last year was and how it's flipped completely," she said.
When she stepped up for her first throw Mickle was searching and conservative with her restrained 60.43. She followed it up with an unshackled 66.25m - a personal best - to claim the lead for a time before Obergfoll threw 69.05 metres.
Mitchell had impressively claimed a place in the final with her first throw of 63.77 metres but, despite three more throws in the low 60 metres range, she was unable to better that effort.
Australia has never had two women finish in the top five at a major championship.
Meanwhile, in the men's sprint, Australia's 4x100 metres team dropped the baton and did not advance to the semi-finals.
The effort of the throwers rounded out a successful championship for Australia with three medals - Mickle's and Sally Pearson's silvers along with walker Jared Tallent's bronze - and a clutch of impressive finalist positions.
Jess Trengove's 11th was an outstanding breakthrough performance in only her third marathon and walker Dane Bird-Smith performed likewise to finish 11th in the 20km walk. Zoe Buckman's performance to make the final of the 1500 was strong and her run for seventh was equally meritorious.
For Mitchell to join Mickle in the top five javelin throwers in the world capped a solid nine-day championship.