August 22, 2013
via
Sydney Morning Herald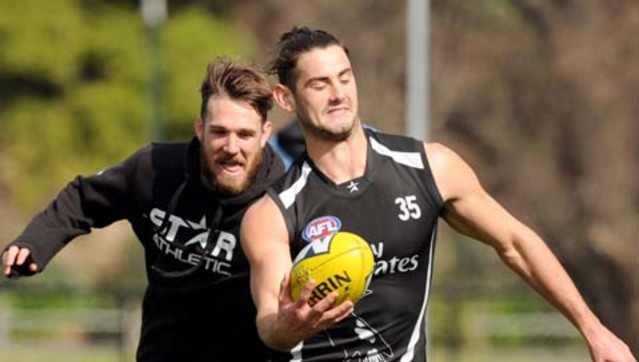 At even a cursory glance, Brodie Grundy presents as an interesting young man throwing himself into the games of football and life. By reflex, people label him ''a bit different'', so let's pursue that angle for openers.
The 19-year-old was physically disposed and drawn to basketball, but as quirky stats guru Andrew Gigacz reports, numerically born to be a footballer. Having arrived on April 15, 1994, makes Grundy one of only seven current AFL players with a ''footy score'' birthdate - 15.4 (94). He is also, Gigacz adds, the 1111th footballer to represent Collingwood.
As a student at Adelaide's Cabra College, he attained marks as strong as those he now takes. As someone with an interest in words, he would doubtless be amused by Gigacz's other offering - that his name is an anagram of ''nude bird orgy''.
His mind is thirsty and unrestrained. Speaking to The Age's Emma Quayle before last year's draft, Grundy pondered the mystery of people avoiding interaction on public transport, yet seeking out conversation with strangers at parties. He describes himself as ''enigmatic'' on Twitter, where he recently asked if anyone had ever rubbed their eyes so hard they were ''taken to another galaxy full of bright colours, dots and swirls''.
This week, he tweeted that seeing someone ''hashtag'' their own name is ''a key indicator in my decision to never communicate with that person ever, ever again''. It elicited an immediate response from Collingwood's coach: ''#bucks #dilemma''.
Nathan Buckley would have enjoyed the exchange as much as he is enjoying Grundy's football. Ruckmen of his tender age and 202-centimetre height are generally several development years away from making an impact, but he's proving one out of the box here, too; this week, Buckley said Grundy is currently the Magpies' No.1 ruckman.
Unique, super-intelligent, quirky, his own man and a ''different cat'' are among the descriptions of Grundy that sprinkle the speech of those who know him. Such qualities will make his journey fun to watch, but not as rewarding for Magpie fans as the assets that underpin his football.
''He was just super-competitive, and he was aggressive, which you don't generally see too much of in kids of that size at that age, particularly coming from a non-contact sport,'' says AFL academies development coach Mick Ablett, who was drawn to Grundy on last year's tour of Europe.
Brenton Phillips first saw him when Grundy made South Australia's under-16 team with a football resume that amounted to a handful of games, full stop. He left a selection meeting after the last trial game believing Grundy had missed the cut, then heard his name when the squad was read out in the change rooms shortly after.
''I said to [coach] Darel Hart, 'What changed?' He said, 'I just liked his competitive nature. I reckon he'll be OK down the track.'''
Collingwood folk report that Grundy has an innate knack of knowing what he needs to do to get better, isn't easily rattled (helpful given his choice of hairstyle), and keeps answering every question that's asked of him. Not to mention quizzing everyone from his fellow ruckmen to the coaching staff to defenders, forwards and whoever crosses his path.
''He's a smart kid, but he's skilful too - he's one of those guys who the more he's exposed to it the more his skill and ability come out,'' one close watcher says. ''You give him little tips and he works it out for himself.
''The old adage about ruckmen taking years to develop, there's one or two - like Nic Naitanui - who can step up as soon as they get in. And that's because they've got both the ability and the competitive edge.''
Ablett will never forget seeing the latter writ large during a training session in Italy, of all places. Grundy was pitted against Joe Daniher and thriving on the man-on-man combat even before he copped an accidental backhander that bloodied his nose. ''The fire it lit inside him was incredible to see, he went up another gear,'' Ablett says.
Ablett puts Grundy among the most easily misunderstood. Some people have thought him aloof, and drawn the erroneous conclusion that football isn't as big in his world as it could be.
''I think he enjoys the fact that some people can't quite get a handle on him. I've watched people interview him, and as much as they've thought they're running a test on him, he was running one on them at the same time.''
Difference has a tendency to scare people, but Ablett calls Grundy ''an absolutely brilliant fella'' and would hate to seem him misrepresented. ''Because he's such a good kid you don't want him to be seen from the wrong perspective.''
Phillips remembers the occasional ''airy'' in that under-16s team in Sydney, so raw were Grundy's skills, yet he featured in the best multiple times alongside the likes of Jack Viney, Sam Mayes and Ben Kennedy. Back-to-back All-Australian selections as an under 18 attest to his rapid progress.
''Some of the ruckwork I saw last Friday night, when he's just laced-out [Scott] Pendlebury a couple of times in the middle, you can't teach that stuff,'' Phillips says. It was a flashback to his connection with Kennedy playing for South Australia, teammates then and now.
Talent spotters still can't believe he slipped through to 18 in the draft. Having his black and white beginning delayed by a back injury that sidelined him until May might have been a blessing; his performance against the game's leading ruck duo, Scott Mumford and Mike Pyke, was evidence of the power of bottling determination.
The Magpie insider says a punter wouldn't have backed Grundy to play this year, but Phillips saw someone who could progress sharply once he got a sniff.
''He was never going to be on a list for four years before he got a look-in.''
That would be far too normal.