August 24, 2013
via
The Age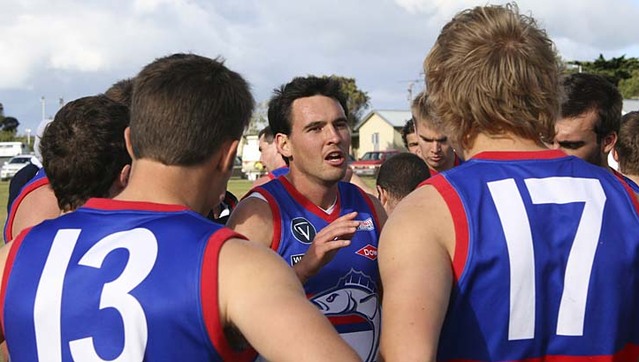 When Queenscliff coach Tom Limb was growing up, he never imagined being part of an era of success like the one the Coutas are now enjoying.
''Through my junior days, we were rarely in the finals, let alone winning grand finals,'' Limb recalled.
These days, however, Queenscliff is the powerhouse outfit in the Bellarine league. The club broke a 36-year premiership drought when it won the 2011 flag, and it backed that up by winning last year's decider.
The Coutas have been even more impressive so far this season. Last weekend they completed an undefeated home and away campaign when they beat Modewarre by 50 points. Having finished three games clear on top of the ladder, Limb and his men have this weekend off before fronting up for the second semi-final next Saturday.
''In last year's premiership team we had about seven new players in there, and we've had a similar number come into the side this year,'' Limb said. ''That's one thing that helped us stay fresh. Another factor is that a lot of our players went through the tough times at the club, and now that we've got ourselves in this type of position that hunger to keep winning isn't going anywhere.''
The Limb family is a relative newcomer to Queenscliff, having moved to the town in 1993. But Tom and his three older brothers - Matt, Michael and Blake - have all played a role in helping the club transform itself from battler to high-achiever.
Tom spent his early 20s living in Ballarat, where he studied business management and sports science and played for the Roosters in the VFL. He returned to Queenscliff during the 2009 season, which was just as the Coutas' revival was taking off.
Queenscliff ended its long finals drought by making the top five in '09, but it lost to Drysdale in a semi-final. Next year the Coutas were beaten by Drysdale in the preliminary final.
After playing 200 games, the last of them as captain, Michael Limb retired at the end of the 2010 season. His timing could hardly have been worse, as he found himself watching on as Tom and Blake helped Queenscliff defeat Geelong Amateur in the 2011 grand final.
Michael was so envious of what his brothers had achieved that he made a comeback at 34. The story ended happily when he was part of the Coutas' side that made it two flags on the trot by defeating Torquay in the 2012 grand final. He promptly hung up his boots for the last time.
Tom Limb took on the senior coaching job prior to the start of last season. In contrast to his brother, his timing has been impeccable. He has coached Queenscliff in 38 matches and has lost just one of them.
This year it's not only the Coutas' senior team that finds itself in the top five. In fact, the club's firsts, seconds and thirds have all made the finals for the first time since 1977.
''We're pretty happy, to be quite honest,'' said club president Merv Godfrey. ''The club is going from strength to strength.
''From six years ago, when we struggled to find blokes who wanted to come down and play for us, we've got to the point where they walk in the door at the start of pre-season. That makes life a lot easier.''
Off the field, Queenscliff is also thriving. The club's renovation of the Monahan Centre, which has involved turning a basketball stadium into new change rooms and an upstairs function centre, is almost complete.
''We were hoping to be in it five or six weeks into the season, but it's just been an ongoing battle,'' Godfrey said. ''We had a lack of funds, but the community has put another $100,000 towards it by buying bricks. Then we had to find enough guys to volunteer to do all the bits and pieces that needed to be done.
''We're just waiting for a fire upgrade on it. It was started on Tuesday and they reckon it will take nine days, so we're hoping to have our grand final celebrations - and I know I might be getting ahead of myself here - and presentation night there."
The Coutas have plenty of work to do before any champagne corks can be popped. But given they enter the finals on the back of a 22-game winning streak, they are red-hot favourites to make it a hat-trick of flags.
''There is some pressure there,'' Limb said. ''We just need to make sure that we continue to work and hopefully we'll get the job done.''