Carrie Underwood sprains foot
September 06, 2013
via
BANG Showbiz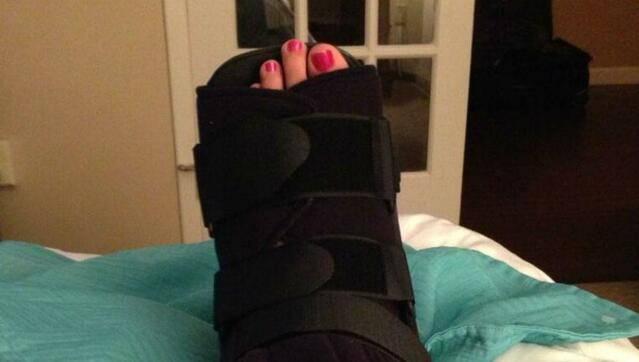 Carrie Underwood sprained her foot after falling on stage last night (09.05.13).
The country singer was performing to a sold out crowd in Corpus Christi, Texas, when she suffered a serious tumble and had to be taken to hospital for treatment.
The 30-year-old star's top, which featured a long, flowing train, got trapped under one of her five-inch heels, causing her to land on her posterior mid-song as she serenaded the crowd with a track called 'Undo It'.
While Carrie was unable to undo her own faux pas, ever the professional, she carried on singing and finished the live show despite being in a great amount of pain.
The 'American Idol' winner was later diagnosed with a sprained ankle and doctors have ordered her to wear a protective boot while she heals.
Carrie - who is married to ice hockey player Mike Fisher - saw the funny side of her accident as she shared a picture of her new footwear on Twitter.
She wrote: "Hey, remember that time in Corpus Christi when that girl busted her butt on stage?! Hilarious! Oh wait, that was me! #5inchheels #klutz (sic)"
The singer later added: "I can't move my toes. Is that bad? ... Good news, it's not broken."