Kelly gang is hard to catch
September 07, 2013
via
The Age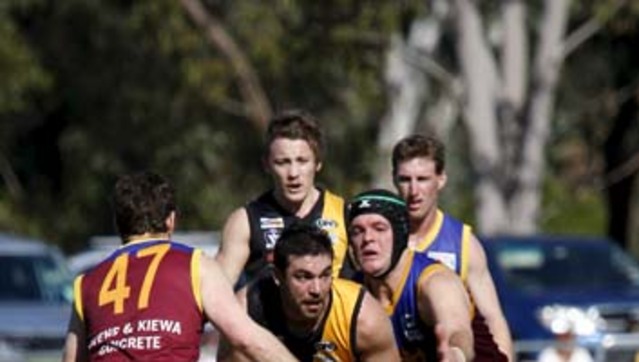 GRASS BOOTS
A footy team kicking four goals in 30 minutes is not usually something to get too excited about. But there were smiles aplenty on April 6 when Glenrowan's senior side posted a score of 4.4 (28) in its opening quarter of the Ovens and King league season against Tatong.
The reason the Glenrowan supporters were so excited was that the Kelly Tigers (the nickname pays homage to bushranger Ned Kelly, who was captured in the town) last year averaged just 28 points per game.
To put it bluntly, Glenrowan's 2012 campaign was a disaster. Its senior side lost all of its 18 matches by an average margin of 29 goals. The reserves lost 16 games and forfeited the other two. On many weekends, at least half the senior side had already run around in the reserves.
''The club was stuffed,'' said Casey McPhail, who took over as president at the end of last season. ''It was going to fold. Blokes who couldn't even catch the ball had been getting a game. Some of them were 45 or 50 years old. The ball would hit them in the head.''
But 12 months down the track, Glenrowan is back in business. Both its first and seconds qualified for the finals, and although the reserves were knocked out of premiership contention last weekend, the seniors on Sunday battle Tarrawingee for a berth in the grand final.
''Coming from a position where we won two games in two years, I think most of the people in the Wangaratta area will be supporting us,'' McPhail said.
A former Glenrowan player, McPhail was persuaded to try and lead the Kelly Tigers out of the mire by his younger brother, Taylor.
''I was having a drink with him and a couple of his school mates from Scotch College in Melbourne,'' McPhail recounted. ''He piped up and said, 'You become president and I'll come up and play'. Then his mates said, 'We'll play too'.
''When the AGM came around I was over in China, so I rang a couple of blokes from the football club and told them that if they wanted to step aside, then I would take over as president. They handballed me the job that quickly it wasn't funny.''
After resurrecting the club's finances by putting some money in himself and securing a raft of new sponsorship deals, McPhail's key challenge was finding a coach who could play the role of Pied Piper.
Things fell into place when Luke Cunningham, a former employee of his large furniture business, steered him towards a couple of talented lads in their mid-20s. Cunningham's brother Rory ended up being appointed assistant coach and senior captain, while Rory's best mate, Nigel Robinson, was persuaded to sign up as coach.
Given Robinson had come through the ranks at Ovens and Murray league club Wangaratta Rovers, played in the TAC Cup with the Murray Bushrangers and was part of Queenscliff's 2011 Bellarine league premiership, his arrival signalled that the Kelly Tigers were up and about.
From there, Robinson and Rory Cunningham took charge of the recruiting effort.
''We had contacts that were always going to come and jump on board with us,'' Robinson said. ''Within the first two weeks I think we signed 20-something blokes.''
The senior side won its first seven games, before drawing with reigning premier North Wangaratta.
The Kelly Tigers suffered a reality check when they were well beaten by flag favourite Milawa in round nine, yet they were soon back on the winners' list. In round 14 they held Tatong scoreless in a 177-point win.
Around that time, Glenrowan became even stronger when it signed former Melbourne player Nathan Carroll. Despite a few hamstring problems, the 32-year-old has been a consistent performer in the six games he has played so far.
Carroll booted three goals in the Kelly Tigers' qualifying final clash with Milawa, although it was not enough to get them over the line. He kicked another three last weekend as they kept their season alive by defeating Whorouly in a semi-final.
The team that defeated Whorouly contained only one player - big man Chris Sussyer - who played in Glenrowan's senior side last year.
Today Sussyer, Carroll and their teammates will be in the thick of the action again as the Kelly Tigers line up in their first preliminary final in 29 years. McPhail is adamant that ''we should win and go into the granny''. If that happens, the club will find itself on the verge of claiming its first premiership since 1981.
''In my football career I'm sure I'll never get the chance again to take a club from the bottom to the top in one year,'' Robinson said. ''So we want to get out there and give it a good crack.''