Boyd four-goal haul to catch eye of selectors
September 22, 2013
via
The Age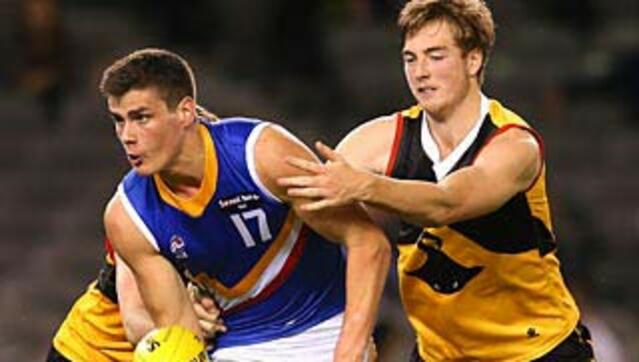 Eastern 4.2 10.2 14.5 24.8 (152) Dandenong 1.4 1.7 3.7 5.10 (40)
GOALS Eastern: Boyd 4, Traynor 3, Honeychurch 3, Welsh 3, Apeness 2, Petracca 2, Crowe, O'Sullivan, Evans, Gibson, Keedle, Hannon, Walker. Dandenong: Hartung 2, Scott, Rennie, McCartney.
BEST Eastern: Cavarra, Welsh, O'Sullivan, Walker Fisher, Bond. Dandenong: Capiron, Hartung, Gawley, Bastinac, Kempster, Wilson.
Venue: Etihad Stadium.
Tom Boyd, the potential No.1 pick in this year's AFL national draft, says he is not fazed which team he goes to, with Greater Western Sydney being his likely destination.
The ready-made and well-built forward returned for his first match in almost three months for the Eastern Ranges in its first flag since 2002 after disposing of the Dandenong Stingrays with ease by 112 points.
''The club that holds the No.1 pick, or any other pick for that matter, is the one that's in control and they're in the driver's seat, so you just have to sit back and wait and see,'' Boyd said after the premiership win.
Boyd, who has recovered from an ankle injury, kicked four goals - including three in the opening term - to go alongside four marks and 13 disposals in the 24.8 (152) to 5.10 (40) onslaught. He was ''triple teamed'' after quarter time and said he ''felt pretty conked'' as the game wore on.
While he was keen on delivering on the big stage, Boyd said his drive to return for Sunday's grand final was more about giving something back to the team that had helped nurture his talent.
''You don't play football for your personal commitments, you play because you love the game and you love putting in. I'm a super competitive person and been through the Ranges program for the last four weeks, so this is the icing on the cake, I suppose,'' he said.
But during the time he was sidelined, the 18-year-old's name had been all but inked with the No.1 draft tag. The year 12 Luther College student said the heavy exposure has been ''interesting''.
''It's an interesting experience when you look at it from outside. You have people who want to take photos with you and all that kind of thing but I just want to be the best footballer I can. It's part and parcel of the game these days and I try to handle it the best I can,'' he said.
Ranges coach Darren Bewick said Boyd, along with Mitch Honeychurch, who also kicked three goals on return from a hamstring injury, played their roles well.
''The thing about them is they're both mature young boys who know their role and I thought they played their role without being spectacular today,'' Bewick said.
Ranges skipper Ben Cavarra made a statement to AFL recruiters with a best afield 30-disposal performance. The talented midfielder has had a great season. He took out the TAC Cup Medal on Sunday to go alongside a Morrish Medal for best and fairest in the league - yet he did not get an invite to the Draft Combine.
''He's [Cavarra] had a fantastic year,'' Bewick said. ''I don't care what size you are, if you can play footy and do what he does, it's better than a 188-centimetre athlete who they're trying to teach - he's ready to go,'' Bewick said.
''He fully deserves an opportunity. If clubs were watching today and they saw what he did today, he's got to be a chance.''
The match was a far cry from the one in which the Stingrays defeated the Ranges by 33 points in a qualifying final three weeks ago.
The flag was in the Ranges' hands by half-time as they accelerated to a 49-point lead. For the Stingrays, that first flag eluded them again.