Watmough right for final but World Cup may be stretching it
September 21, 2013
via
Sydney Morning Herald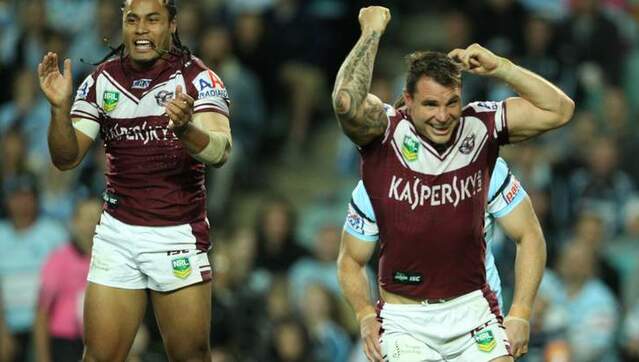 Fears of incurring permanent damage to his injured right knee may force Manly forward Anthony Watmough to withdraw from the Australian team for the end-of-season World Cup.
Watmough played 63 minutes of Friday night's gruelling 24-18 defeat of Cronulla after aggravating the injury and only returned to help his battered teammates survive a late Sharks onslaught but insists he will be fit to play South Sydney in this week's grand final qualifier at ANZ Stadium.
However, the Test back-rower said he was concerned about developing arthritis and would consult the Manly medical staff after the club's last game to decide whether he should play in the World Cup.
''I will need to have a good talk to the doctor and see what he thinks, and to our physio,'' Watmough said. ''I really want to play in the World Cup but is it worth the risk of doing permanent damage to my knee for a couple of weeks away? I don't know, that is the big question.
''It is something I am going to have a long hard look at. I won't need surgery but it is one of those things that just needs rest and if you keep running it is going to do more damage.''
Watmough first sustained the posterior cruciate ligament injury in the round-22 match against the Warriors and aggravated it a week later when he was the victim of an illegal ''crocodile roll'' tackle in which Rabbitohs prop Jeff Lima twisted his injured leg.
The 28-year-old has required ongoing treatment, cortisone injections and pain-killing needles to play in recent weeks but Watmough said he did not hold any grudges against Lima and won't be seeking to get square with him in Friday night's clash.
''There are no bad feelings there, it is footy,'' Watmough said. ''What happens on the field stays on the field.''
Asked about the injury after Friday night's match, Watmough said: ''I am OK, I just stretched the PCL capsule a bit. It is the same old, same old so we will look after it and I will be right to go next week.''
Manly captain Jamie Lyon is also confident of overcoming a cork to the back of his knee that troubled him on Friday night, while star fullback Brett Stewart is a chance of returning after missing the past two finals matches against Sydney Roosters and Cronulla due to a hamstring injury.
''He was pretty disappointed that he didn't play, he thought he was letting the boys down but we explained to him that it was our job to win for him to give him another week,'' Watmough said of Stewart. ''If he had played and done it again just from playing one week too early it wasn't worth the risk, we didn't think.''
Manly coach Geoff Toovey admitted after the win over Cronulla that he had underestimated how big a toll last week's 4-0 loss to the Roosters had taken on his players and Watmough said it was one of the most taxing games he had played in.
''We were gassed after 20 min-utes, I don't think I have ever been that tired,'' he said. ''The match against Cronulla was a lot harder than last week, in my opinion. Cronulla … got us on the back foot a lot. Last week definitely took its toll but I think we will be better for it.''
Twitter - @BradWalterSMH