September 21, 2013
via
Sydney Morning Herald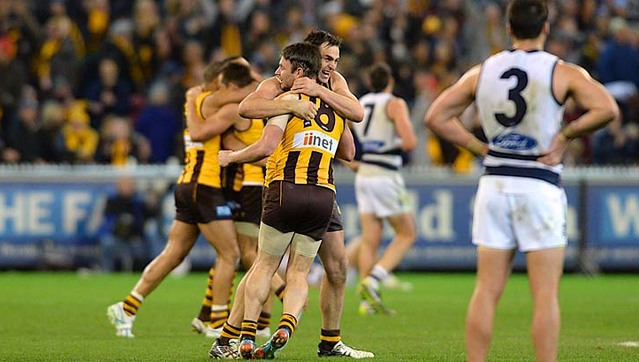 While he may have had a mild limp as he made his way into the renovated super box at Waverley Park on Saturday for a press interview, it's clear nothing this week will stop Brent Guerra from lining up in next week's grand final. Guerra was crunched in a marking contest during the Hawks' stunning five-point win over Geelong on Friday night, but played on with his left foot - arguably the most lethal weapon in the game - continuing to slice the Cats.
''I just copped a corkie and played the game out and will be ready to train on Tuesday,'' Guerra said, without a hint of reservation.
Guerra ripped his hamstring against West Coast on the eve of the finals last year and worked diligently to give himself every chance of playing in the grand final.
But the man the Hawks have nicknamed ''Goo'' fell a week short. On the Tuesday before the grand final, he knew he wasn't ready.
''I was probably a week or two away. I knew within myself I wasn't 100 per cent so I put my hand up and said I was no good,'' he said. ''That's what you play football for, to play in grand finals, or even premierships. It was definitely tough last year, especially that last training session on the Thursday or Friday, when there were 8000 people out here. That was the toughest part of the week. It's just great to have that opportunity this year to give it a fair crack.''
Compared to the pain he went through last year, physically and perhaps even worse, emotionally, a nasty corked thigh this time is a mere sting.
''It was definitely tough last year having to watch the boys but I did what I could do off-field,'' he said.
This was highlighted when he was named best clubman for his professionalism during that period. ''This year it's a great feeling knowing that I can be part of a grand final,'' he said.
Teammate Brendan Whitecross would also miss the biggest day on the AFL calendar, having torn his anterior cruciate ligament in the qualifying final. But where Guerra has a chance for redemption this year, the unfortunate Whitecross has another personal battle to deal with, having suffered a repeat of that same injury on Friday night.
Guerra said Whitecross' selfless nature was shown at a recovery session on Saturday morning when he was simply happy for his teammates. ''Whitey, the good bloke that he is, is sitting down there this morning, just smiling, happy that we are in a grand final.''
Guerra is also much loved by his teammates, coaches and fitness staff, the latter ensuring he has remained in optimum condition with strategic rests in a season in which he notched his 250th match.
''I played 16 home-and-away games this year. We didn't want to go through what happened last year, so we rested the body and [I have] felt as though it has helped me, and have been able to play more consistent footy as well,'' Guerra said.
Clarkson knows the importance of a man whom he coached in the SANFL's Central District when Guerra was with Port Adelaide and later gave another AFL opportunity to in the 2006 pre-season draft after Guerra had been axed by St Kilda.
Guerra, who curtailed his off-field lifestyle when he linked with the Hawks, has rewarded Clarkson, and added to the success rate of recycled players the club has remodelled and improved.
Guerra's accurate left-foot kick has been central to the Hawks' high-possession game, with his short and direct and sometimes sweeping kicks from defence sparking many a counter-attack. Elated at the end, Guerra says the win over the Cats will be meaningless unless the Hawks taste the ultimate success. ''[That's] exactly right. You don't want to have to go through that [grand final defeat] two years in a row because even though I wasn't playing, just to see the boys that night, we don't want to go through that feeling again.''
At 31, Guerra has yet to re-sign for next season. He understands this could be his last game, but serious thoughts about his future are on hold. ''I have just been playing these last three, four games like they are my last. I just want to get through this week and then we will work out what happens next year,'' he said.