Bagged taggers run ragged to become pivotal for September team success
September 26, 2013
via
Sydney Morning Herald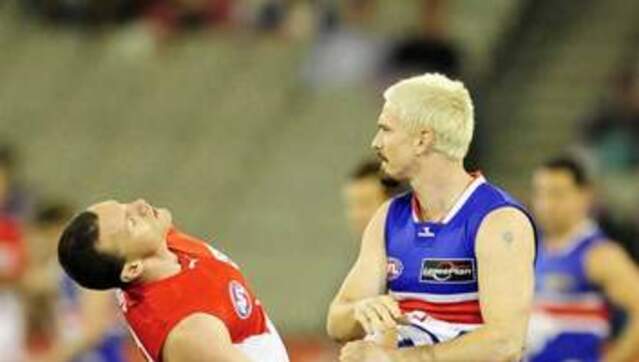 They are the men whose job it is to stop the players the fans have come to see, and are despised by all apart from their own supporters, but they have become pivotal to a team's success.
It's not often a tagger can steal the limelight away from a superstar like Lance Franklin in grand-final week but such is the impact Ryan Crowley has had this season he has been the big talking point leading into Saturday's game.
Crowley is the latest serial pest of the AFL - the man who has the dubious honour of being able to wind up his opponents before and after the final siren.
The Docker follows in the footsteps of master taggers like Tony Liberatore, Steven Baker, Sean Denham and Sydney's Jared Crouch.
He might not scratch and claw, like Liberatore was accused of - a claim he denies - but his incessant niggle and goading, or in some cases even pinching, has proven a winning formula this year - just ask Kieren Jack or Steve Johnson in this finals series.
Not surprisingly, Crouch and Denham, who had a fierce rivalry with Greg Williams in the 1990s, are unabashed fans of Crowley, who is likely to have Sam Mitchell as his opponent this week. Crouch, who was a fine player in his own right but is better remembered for his duels with Jason Akermanis, cannot see the difference in what Crowley is trying to do compared with a defender.
''For me they are defensive midfielders - if you have a look at the evolution of the defensive midfielder it's the same as defenders,'' said Crouch, who now coaches Sydney's reserves team.
''Defenders, when I first started, were spoil the ball out, let your mids run the ball out. Now the defenders have actually become guys like Jarrad McVeigh. They defend really well, he beats his opponent, but he can get his hands on it and help the mids move the ball up the ground. For me, that is evolution.''
Unlike Crowley, Crouch did not try and taunt his opponents, nor did Denham, but the tactic is working for the Docker. Liberatore, who had numerous stoushes with Paul Kelly, cannot believe the number of players who take Crowley's bait and try to fight back.
''When a player gets sucked in it's a massive win for the side,'' Liberatore said.
Crouch knew he had Akermanis' measure only after the former Brisbane and Western Bulldogs star sledged him publicly in the press.
''Then all of a sudden the media jumped on it, then every time we played there was this big clash,'' Crouch said.
''All you do in the couple of days leading up to it is answer questions about what you're going to do to try and beat him this time - it does play with you mentally.
''It didn't matter who it was but once your opponent tried and mouthed off at you, you knew you had them beat. Once that happened there was almost a cheeky grin that come across your face. You had them beat and they were up to their last resort.''
Denham found out in a more violent manner.
''For me it wasn't the gobbing off but getting the whacks from them,'' Denham said.
''Back when I played they weren't that nice about it. From that point of view you knew you had them because then they were getting distracted trying to whack you. They're not thinking about getting the footy and getting frustrated.
''That's when you know you're getting under the skin of everyone. It was fun. That was part of footy back then. It was how I grew up playing footy. Even after games a lot of the blokes would have a laugh about it.''
That's not the case with Crowley's opponents if Johnson and Brent Harvey's responses after the game are any indication. But Denham, Crouch and Liberatore all admire Crowley's style as he can also win the ball. ''There were some things I did that you can't do but there's no rule that says you can't be shoulder to shoulder with a player,'' Liberatore said.