How and wow factor: Swans' tall timber poses dilemma for opposing sides
October 03, 2013
via
Sydney Morning Herald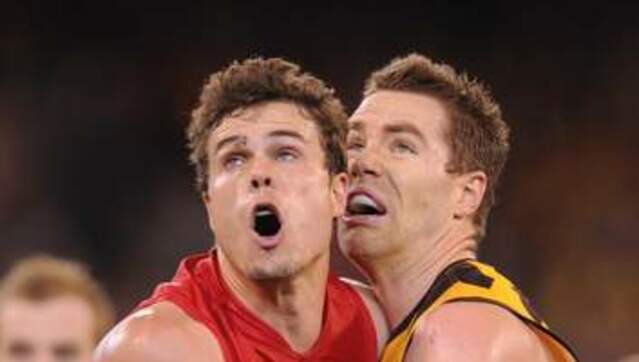 There has been plenty of bleating from Melbourne clubs about how Lance Franklin managed to get himself from Hawthorn to Sydney, and how do the Swans fit him in? But what rival clubs' coaching departments will be thinking and saying is not ''how?'' but ''wow!''
They will have to contemplate taking on a Sydney forward line that is fully loaded, with Buddy joining Kurt Tippett, Adam Goodes and Sam Reid. Having these four players all fit and available on any given weekend will give John Longmire and his coaching panel myriad options.
The opposition will need to plan accordingly, knowing that they will need a minimum of three tall defenders. Consider the dimensions of the players the Swans can potentially put on the par, and if the names don't daunt you already, read on: Goodes (194 centimetres and 99 kilograms); Reid (195cm and 91kg); Tippett (203cm and 104kg); as well as their No.1 ruckman Mike Pyke, who stands at 200cm and 104kg. Then add Buddy to the frame at 196cm and 103kg, and most defensive assistant coaches in the league will be having nightmares about how under-equipped their defensive stocks are.
Of course, reality says that there will be plenty of matches where not all five are in the same team, let alone playing in the front half together. Opposition coaches will cross their fingers and hope they are drawn to play the Swans on such an occasion. For the Swans' match committee, they will have some headaches working all five into their team at various stages - but I know whose headache I'd rather have.
Some of the likely scenarios that may occur are worth exploring. With Shane Mumford and Jesse White moving on from the Swans, Pyke will become the No.1 ruckman and Tippett will be the likely No.2, reprising the role he played in his former incarnation at Adelaide. Both Goodes and Franklin have remarkable natural athleticism that allows them to play ''high'' up the ground, or even venture into the midfield on occasions - taking the description of the big-bodied midfielder to a whole new level. This leaves Reid to play his natural role as the lead-up forward, along the lines of the old-fashioned centre half-forward.
Next year we might see the following set-up at the SCG: Pyke in the ruck, Reid at centre half-forward, alongside the likes of a Luke Parker or Tom Mitchell, with Reid's role being to present deep to the wings as a marking option for the defenders; Tippett as the deepest tall target at full-forward, with both Goodes and Franklin playing in front of him. The Swans will always have a potential match-winner lurking close to the goal posts.
* The opposition analyst works in that role for an AFL club.