Craig Foster's A-League season preview
October 10, 2013
via
Sydney Morning Herald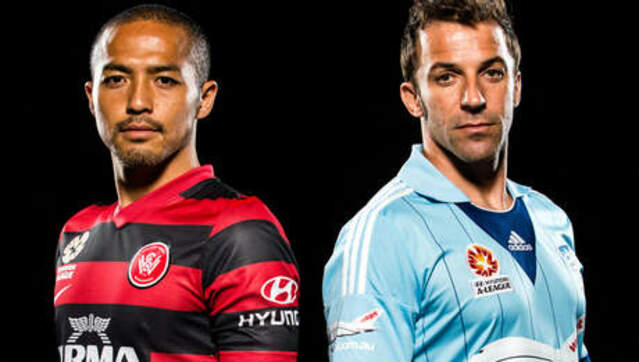 Pull-over banners given the boot at high-profile clashes
Western Sydney Wanderers
Last season: 1st
Tony Popovic won the league last season without a No.9, that's how good he is. I don't mean he had an average player rather than a superstar, other coaches have won with that, rather that he had a ghost, a ten man team with the ball. Without the ball, he had a beast as the departed Dino Kresinger, particularly, would work incredibly hard and became a fan favourite for his commitment to the cause but, with all my respect to Dino, who in 24 appearances scored the same number of goals as captain Michael Beauchamp with one, at some point, a regular goal scorer is needed. Daniel McBreen topped the charts with 17. Wanderers' best was rejuvenated wide midfielder, Mark Bridge with a very impressive 11, then Shinji Ono on seven. The message? If Poppa gets a goalscorer, everyone is in serious trouble. Why? Because his team improved steadily from as low as 10th in round three, to fourth in round 10, second by round 20 and first for the last five rounds. Now, he has had four months to continue the trajectory, as well as added Tomi Juric and Brendon Santalab, who need only score more than one to be a raging success. You beat the Wanderers this season, you win the league.
Central Coast Mariners
Last season: 2nd
Graham Arnold has pulled so many rabbits out of hats, he's wanted by the RSPCA. Each season, in a club that was, or is, constantly trying to balance the budget in a very small market, he loses players, replaces them with mostly youngsters and wins. That's one hell of an effort. The league's longest-serving coach adapted his system last season to evolve; this year represents something of a departure from a youth policy with the signing of Marcos Flores, so it will be fascinating to see how he adapts the team to make use of the Argentinian's proven gifts, as well as fills the hole left by the dominant presence of Patrick Zwaanswijk in central defence. Marcel Seip has a lot to live up to. In the new A-League, the coaching cream will rise to the top over 27 games, which is just enough for holes to be found in schemes and some to fall away and, despite player quality or otherwise, Arnold will challenge come March. Thankfully, he'll also help develop a few young talents for the future Socceroos at the same time. God knows we need it.
Melbourne Victory
Last season: 3rd
If there's one coach champing at the bit to get started, it's Ange Postecoglou, who set a new bar three seasons ago with the Roar and has the Victory faithful immensely excited about doing likewise this season with one of our biggest and most important clubs. Losses have been filled with an experienced defender, a necessary move alongside clever and fleet-footed players Mitch Nichols and Kosta Barbarouses, with whom Ange has previously worked. This speeds up the process considerably, and means his second season should be better than his first, when he was already very close. Along with Sydney, one of the most expensive squads in the league has only one expectation, to win. So, too, does their coach, and he has the proven record to do so and the money to make it so, and that's a very powerful mix. If attack can be maintained while defence is strengthened, bring the ear muffs to the Etihad this season, it's going to be loud. Very loud.
Adelaide United
Last season: 4th
Amazingly, they finished fourth after a shambolic season with coach resignations, board machinations and fan unrest aplenty. Now comes a complete restructure, with former Barcelona youth coach, Josep Gombau. He is, I assure you, highly accomplished and already has Adelaide playing considerably more structured football. The question will be whether club politics allow him to work in peace, and whether he is able to implement his team model quickly enough to compete for the title. Having seen them pre-season, if his attacking players can get fit, he'll push hard, with his second year the target. Dario Vidosic is a big loss – I would have enjoyed seeing him under Gombau – but Steven Lustica and Michael Zullo are quality replacements alongside two Spaniards schooled in the method. Give him time and you'll see superb football, and there can never be enough of that.
Brisbane Roar
Last season: 5th
One of five coaches to have undertaken his first full pre-season with his group, half the league in fact, Mike Mulvey is ready to show what he has to offer, and if he can get this group operating efficiently, they'll be a force to reckon with again. Why? Because no one else has a Thomas Broich, nor a Besart Berisha for that matter, with respect to those who scored more last season. Berisha is a killer, a regular chart topper. Hungry, aggressive, a winning mentality which often steps over the line, he's the sort of goalscorer every coach wants. Give him chances, he'll feast. Give him nothing, he'll still forage for himself and get a few anyway. No defence knows where he'll pop up, and it takes good defenders to be aware enough to stop him. Speaking of chances, Broich makes them like no one else. He's a magician, and we should all enjoy him while he's here. The adverse effect of his absence was seen two years ago, such is his importance to this team. If he stays fit, they'll ask a lot of questions of the other teams.
Perth Glory
Last season: 6th
New coach Alistair Edwards had a big impact at the back end of last season. He beat the Mariners, outplayed the Victory and drew with the champions. In six weeks. What can he now do after a full pre-season? Win or otherwise, the league has already won because we now have one more team that is organised, playing attractive football and causing problems for the others. My question is whether the group has enough high-quality players to push for the title? Some fantastic young players such as Daniel De Silva will come through, but he will also likely feel the physical effects of a huge year for club and country, and needs to be looked after, so don't be surprised to see him sporadically. Jamie Maclaren is a fantastic prospect as well, and we will all enjoy seeing him blossom in a system with clarity. A marquee player was sought but could not be found for the right price, but if Shane Smeltz can get fit and become what he once was, the Glory will be a very interesting competitor for any team.
Sydney FC
Last season: 7th
A very interesting project, with Rado Vidosic joining Frank Farina, leaving many questions to be answered, after kick-off tonight. Will Rado implement the Roar system of play and, if so, to the same effect or with adaptations for the different competition now faced? How will Nicky Carle suit the No.6 position and Brett Emerton as in inside midfielder, No.8 or 10? Where will Richard Garcia play, and will Alessandro Del Piero thrive as a No.9 in this team, and what is the plan to get him the ball in the right positions, at the right time, in the right physical condition? One thing we know, in today's league these questions have been considered, answered and implemented. Pre-season results raise the question whether Sydney can start strongly, or how long it will take to create consistency and momentum and, at this club, pressure grows quickly if things don't go well. Farina handles the group very well. If they're organised to maximum effect, we'll exceed the record crowd of last year. Like I said, many questions, can't wait for the whistle tonight to begin to find the answers.
Newcastle Jets
Last season: 8th
A very exciting prospect to see how this young side develops given that many, such as Adam Taggart and Josh Brilliante, have stepped up to international duty and have a full season's experience to build on. Emile Heskey's injury is a shame, like Orlando Engelaar at Melbourne Heart, but that's the problem with a marquee player: What do you do if they're out? The Jets must make the finals this season to satisfy the investment by Nathan Tinkler, whose troubles thankfully appear to have abated so the group can work without disruption, but Gary van Egmond has been there before and, with the same group for another year plus reinforcements, should push all the way. The young back line made mistakes last season, but if these are minimised as should be the case and, given the quality of Connor Chapman, Craig Goodwin and James Virgili, it's going to be a joyride to watch them play in any case.
Melbourne Heart
Last season: 9th
No secret here. A big year for John Aloisi. More so, with rumours of a possible club sale and the potential new investment this represents. John is learning and developing, as are all our young coaches, and it would be great to see him do well. Harry Kewell is, of course, key. If he fires and leads well, the Heart will turn inconsistent performances into regular quality output, and if they are able to gain points away from home, they'll be finals material, because when they were good last season, they were very good. Unfortunately, the opposite was also the case. Fix this, and Aloisi's second season is going to be an exhilarating one, at a time when the league needs this club healthy and performing strongly in a still under-exploited market. Engelaar's signing was an excellent one but, then, them's the breaks and another option would no doubt have been organised, and will need to be effective. Kewell looks fit and hungry, Aloisi has a full season to draw upon and there's pressure on the group to perform. That's an ideal mix.
Wellington Phoenix
Last season: 10th
Ernie Merrick and Carlos Hernandez are back, different country, shirt and crest, though. Both come with excellent pedigrees, and will bring a level of professionalism and expectation of performance levels the Phoenix have lacked, certainly last season. Merrick went abroad to continue learning for a few years, as every coach must do at some stage, to clear the perspective and look at new ways not yet found here, and will be all the better for it. He knows how to win, and that's something not every coach does, and pre-season results are very encouraging that we have the Phoenix back as challengers to bring the bottom clubs closer to the top, resulting in a far closer and more competitive league. How will Merrick match up against the up-and-comers, and how has the league changed since he left? Very interesting questions. Young players, a new team structure, experience and a different expectation all bode well for the club, and the A-League.