Pull-over banners given the boot at high-profile clashes
October 10, 2013
via
Sydney Morning Herald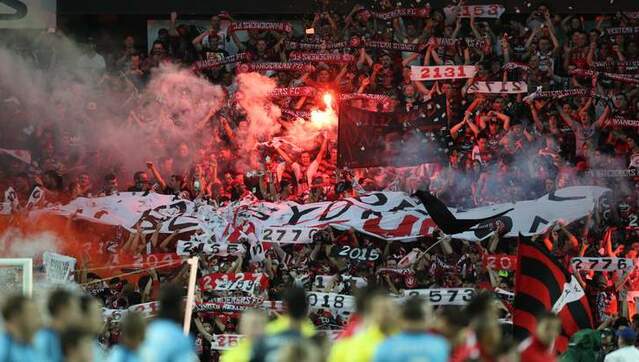 Marquee A-League games in Sydney will lack the visual crowd displays of last year after NSW Police banned supporters unveiling large-scale banners at specific fixtures as part of a clampdown on the behaviour of football fans.
Supporter groups were told large ''pull-over'' banners that cover entire bays would not be permitted at games the police deem ''high-risk'', and any banner greater than two metres by two metres would need prior police approval. These fixtures include three games between Western Sydney Wanderers and Sydney FC and Sydney FC's games against Melbourne Victory.
The new restrictions will come into place just hours before the season's kick-off as the police are expected to announce a new joint committee addressing the behaviour of A-league supporters on Friday morning. The committee will also involve the Football Federation of Australia, the NSW Minister of Sport and Recreation, A-League clubs, stadiums and security interests.
It is understood the use of flares earned the ire of senior police officials, who are frustrated many of those who lit flares last season escaped punishment because their identities were obscured by large banners. There are also safety concerns as the large banners would be flammable.
Sydney FC supporter group The Cove was told of the ban on pull-over banners for at least three home games the coming season during a pre-season meeting with the SCG Trust, and was told it faced harsh sanctions by police if the bans were breached. While the group understands the concerns, there are frustrations within that it has been constantly denied opportunities to discuss issues with the police and is being punished for the actions of a small minority and other groups.
The Cove invited NSW Police to a discussion aimed at strengthening understanding between their style of support and police operations during games.
Cove spokesman Grant Muir says the police refused to engage with the group, before indirectly informing them of the ban on all large banners during games against rivals.
''The police don't seem to be interested at all in engaging us and I don't know whether that's because they believe there is no value in it, but it wouldn't hurt them to try,'' Muir says.
''They might discover that we're reasonable decent people that just want to have a good time at the football. All they're going to do is set up an utterly pointless confrontational situation where football fans feel like they're being harassed, bullied and not being engaged instead of trying to resolve an issue the vast majority of fans agree needs to be resolved.''
The Cove has a relationship with stadium security and discourages the use of flares by its members, but it believes more could have been achieved through co-operation, rather than bans.
Meanwhile, Western Sydney supporter group the Red and Black Bloc has agreed to a club-imposed indefinite ban on pull-over banners as a result of flares being regularly lit last season. The Wanderers held meetings with members of the Bloc during the A-League break and they agreed to a memorandum of understanding that will be in place until June 30 next year. It is aimed at improving communication between the two parties as well as weeding out anti-social and criminal behaviour. It is understood the Red and Black Bloc could have its pull-over ban lifted if the members improve their conduct and cease lighting flares.
In exchange, they will be granted concessions with regard to unreserved seating within their designated area and the approval of drums and other items used to create the game-day atmosphere.
Red and Black Bloc representatives declined to comment on the new restrictions when contacted via the club.