How the A-League teams are shaping up
October 10, 2013
via
The Age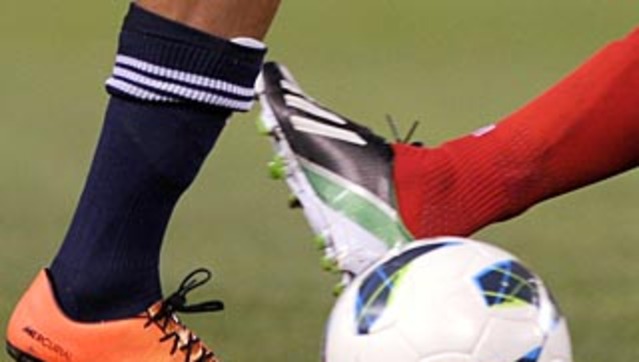 New kid on the block Western Sydney almost clinched the premiership on debut – thwarted at the last hurdle by Central Coast. Michael Lynch runs the rule over the clubs in 2013-14 and predicts that Victory coach Ange Postecoglou and his Adelaide counterpart Josep Gombau might be facing off in the finale.
Adelaide United
Often a challenger, but yet to win an A-League title, the Reds have a distinctly Latino flavour about them this season, having hired a Spanish coach with Barcelona links in Josep Gombau. He has brought in two of his countrymen, Isaias and Cirio, who will link with the Portuguese Fabio Ferreira and the Argentinian duo Jeronimo Neumann and Marcelo Carrusca.
Gombau has Adelaide playing a more possession-based game style and pre-season results have been impressive. Can it sustain it over the long run, especially when the pressure for results mounts?
Brisbane Roar
A season of transition last year as the dual champion adjusted to life after Ange following Postecoglou's return to his Melbourne home-town as the boss of Victory. Two coaches in a season never makes for an easy life, but Mike Mulvey, who replaced Rado Vidosic, should be feeling more comfortable in his skin after taking the Roar to the finals.
The return of Matt McKay is a boost, the busy midfielder sure to add experience and nous to his workrate. Liam Miller has been brought in from Perth to add a silky touch, while in Thomas Broich and Besart Berisha, Brisbane has retained a tremendous playmaker and dangerous goalscorer who have done the job so often in the past.
Central Coast Mariners
Graham Arnold is about to find out whether being the hunted is harder than being the hunter. Most of his predecessors to have coached teams to championships will assure him it is.
Richly deserved title-winners last season, the Mariners have, as ever, lost a complement of important players in the off-season. It has never stopped them being competitive in the past, and it surely won't now. The addition of Marcos Flores should give them flair in the attacking third, while striker Mitch Duke, who impressed Socceroo coach Holger Osieck so much in the off-season, will need to exert his authority this season. Many will be fascinated to see how former Socceroo Robbie Slater's son Tom now goes as a professional with his first contract – especially if his dad is calling the action!! And in Storm Roux they have perhaps the most interestingly named player in the league.
Melbourne Heart
A disappointing first season for the tyro coaching team of John Aloisi and Hayden Foxe after they made an explosive start with a round-one triumph over Melbourne Victory. The team was good at home, but struggled for consistency on the road and failed to win away from home. In the end that proved costly as it dropped out of finals contention.
Aloisi has reshaped the squad considerably in the off-season, bringing in some experienced campaigners such as Dutch defender Rob Wielaert and midfielder Orlando Engelaar, although the latter is missing much of the season after having broken a leg in his first pre-season match for his new team. Most attention will be focused on Harry Kewell, whom Aloisi has made captain. If he has the desire and motivation – and the fitness – there is no reason why the former Leeds and Liverpool star can't play a major role for his new club.
Melbourne Victory
For Ange Postecoglou, a debut-season preliminary final – where his side lost away from home to the club that went on to win the championship – constituted a failure. He is a harsh marker, but also a man who sets the bar higher. Nothing less than a grand final appearance and a championship will count as an improvement for the navy blues this year, so the pressure is always there. Mind you, at the biggest club in the country, pressure and expectation is an ever-present.
There has been a changing of the guard, with Marco Rojas having moved to Germany and Marcos Flores having been shifted out to the Mariners. Postecoglou has shored up the defence with the signing of Chilean international Pablo Contreras, and boosted Victory's attacking stocks with sometime Socceroos James Troisi and Mitch Nichols, brought in after several successful seasons with Brisbane.
Newcastle Jets
The Jets crept under the radar during the pre-season but a team featuring several youngsters did manage to beat Melbourne Victory in a behind-closed doors friendly at AAMI Park last month. Gary van Egmond is in his second stint with the club, having taken it to the title in 2007-08.
Newcastle has managed to retain marquee man Emile Heskey for a second campaign in red and blue, and has bolstered its back line with the signing of Dutch international defender Kew Jaliens. The Jets – and Heart, with Wielaert – will be hoping their two Dutchmen can do for their clubs what Patrick Zwaanswijk did for Central Coast Mariners during his time at Gosford, when he helped lead them to a championship. Plenty of youngsters on the Jets payroll, and goalkeeper Mark Birighitti is a talent – as he showed in an impressive debut for the Socceroos in their 4-3 East Asian Cup loss to China in July.
Perth Glory
Alastair Edwards enjoyed a tremendous honeymoon in the latter stages of the season when he succeeded Ian Ferguson at Glory, taking the team into the finals. In fact it was unlucky to fall at the first hurdle when Melbourne Victory fortuitously won in extra-time at Etihad Stadium.
The second-season blues can, of course, make things a bit harder for a coach, but Edwards is optimistic that he is putting his stamp on a club he once played for when it was a powerhouse in the old NSL.
Glory is an interesting mixture of youth and experience, and Edwards is definitely trying to give the club a West Australian flavour with youngsters like 16-year-old Daniel De Silva, who became the A-League's youngest-ever player when he came off the bench against Sydney as a 15-year-old last season. He has also recruited his two sons, Cameron and Ryan Edwards, along with Melbourne born former Blackburn striker Jamie Maclaren.
Sydney FC
The bling went blue-collar for a while under Czech coach Viteszlav Lavicka, but the glamour came back, big-time, in the harbour city last season when Alessandro Del Piero came to town. The Italian maestro couldn't inspire the Sky Blues to a finals berth, but with a season in the A-League under his belt, he will be even hungrier for success, and it is unlikely that age will weary him despite the fact that he is close to 39.
Coach Frank Farina will be able to call on the support of assistant Rado Vidosic, who was Ange Postecoglou's right-hand man for so long in Brisbane and played a major role in the Roar's success. Farina has recruited some experience in forward areas, with Nick Carle back for a second spell at the club and former Socceroo Richie Garcia moving north after a season with Melbourne Heart. At the back Pedj Bojic, a championship winner with Central Coast, will bring defensive smarts and adventure on the flanks in equal measure.
Wellington Phoenix
All change in the land of the long white cloud as Wellington enters a new season with Ricki Herbert not on the coach's bench for the first time in the club's existence. He has been replaced by Scotsman Ernie Merrick, who, in an earlier incarnation, led Melbourne Victory to two A-League championships, in 2007 and 2009.
Merrick teams up with one of his Victory talismen in Costa Rican midfielder Carlos Hernandez, who is also joined by his country man Kenny Cunningham, a winger with a distinctly un-Costa Rican name.
Wellington has traditionally proved hard to beat at home and that should continue this season. Merrick will get the team organised and it should be hard to break down. Up front evergreen Englishman Paul Ifill remains a class act, supported by All White Jeremy Brockie, who proved himself one of the league's most dangerous forwards last season when he scored 16 goals in 24 games.
Western Sydney Wanderers
The big question for Tony Popovic and the team that took the A-League by storm in their debut season: can they do it all again, or was their emotionally driven campaign a one off they will struggle to repeat?
The Wanderers were the story of the 2012-13 season. After a sluggish start they proved almost unbeatable and raced to the top of the table, collecting the Premier's Plate at their first attempt. They made it to the grand final, but that's where the fairytale ended and they were beaten comfortably enough by the Mariners.
Teams will now have a much better idea about them and their fanatical support, although if Popovic gets it right that might not matter.
The Wanderers were very well organised and defensively tight last year and hit teams on the break. This season Popovic is trying to broaden their attacking options, and the signings of Brendon Santalab and Tomi Juric are designed to do just that. Securing the services of Matthew Spiranovic, an elegant and talented centre half looking to rebuild his career, is another positive.
PREDICTIONS
Champion: Melbourne Victory
Runner-up: Adelaide
Finals: Central Coast, Perth Glory, Brisbane Roar, Melbourne Heart