Sonny Bill Williams defends decision to take Tohu Harris' World Cup place
October 10, 2013
via
Sydney Morning Herald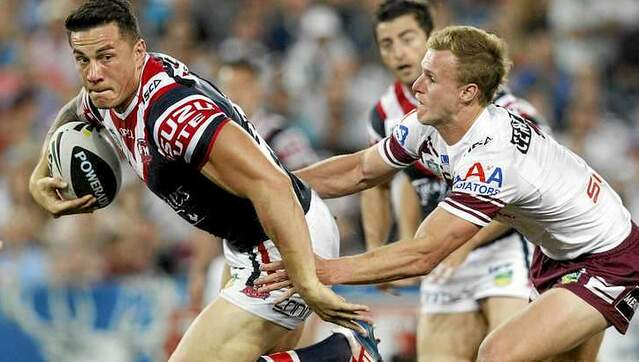 Sonny Bill Williams says he feels "like shit" for taking Tohu Harris's place in New Zealand's World Cup side but believes he would have lifelong regrets if he again missed the opportunity to play in the tournament.
Williams watched the Kiwis win the 2008 World Cup on television in France after walking out on the Bulldogs several months before to play rugby for Toulon and said it hurt not being able to play.
If he had passed up a second chance to play in the World Cup, the Sydney Roosters superstar said he "wouldn't be able to look myself in the mirror" and rejected suggestions he had acted selfishly by reversing a decision to make himself unavailable after the squad was named.
"I'm sorry for taking someone else's spot," Williams said in an interview with BBC World Service. "I actually feel like shit, to tell you the truth.
"I'm really sorry about the Tohu situation, it was never my intention.
"I've offered my apologies to him and obviously he is hurting. It's just a really tough situation and all I can do now is play as hard as I can and help the boys retain the World Cup."
Williams backflip has sparked widespread criticism after Kiwis coach Stephen Kearney was forced to cut Tohu from the squad to accommodate the 28-year-old dual international.
However, Williams said that his "sole focus" for months had been on helping the Roosters to premiership success and insisted that the chance to make history by becoming the first player to win world cups in both codes wasn't a factor.
"When I spoke to Stephen Kearney my body was sore and tired," said Williams, who received the Jack Gibson Medal as Roosters player of the year on Wednesday night.
"I've not had a rest since 2008 and thought I could go on a vacation with my family but I made a rash decision without thinking about it.
"Afterwards I thought what I would miss out on and remembered how bad I felt in 2008.
"I couldn't look at myself in the mirror so I had to make the phone call and say I was available.
"I guess it took 24 hours and the team to be named for it to sink in. But a gut feeling … in 10 years would I have regrets about not making myself available? I've got a lot of time after I'm retired. It can be played off as selfish, but I just left it in the coach's hands.
"Now that I'm there, don't expect anything other than a full-hearted performance."