Monfils beats Federer in Shanghai
October 10, 2013
via
The Age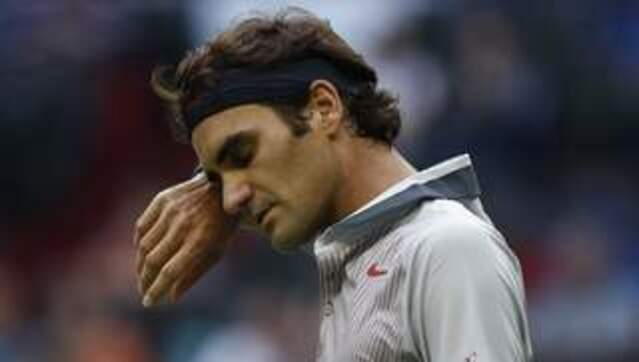 Roger Federer is not yet ready to concede, but the evidence of his decline is mounting, with Gael Monfils the latest to upstage the 17-time grand slam champion on his way towards the end of an ominously lean season.
The acrobatic Frenchman eliminated Federer 6-4, 6-7 (5-7), 6-3 in the third-round of the Shanghai Rolex Masters, damaging Federer's prospects of qualifying among the top eight at next month's ATP World Tour Finals in London and denying the tournament his potential quarter-final match-up with top seed Novak Djokovic, who defeated unseeded Fabio Fognini 6-3, 6-3.
Australian legend Rod Laver said earlier on Thursday that he considers the grand slam record-holder still capable of winning major singles titles, principally at Wimbledon and the Australian Open. But simply winning matches against even lesser-rated opponents has been enough of a challenge for the Swiss champion since he claimed his only title of 2013 on the grass of Halle, Germany, in June.
Against 22nd-ranked Andreas Seppi the previous day, Federer had been slightly scratchy in what was his first tournament appearance since losing to Tommy Robredo in the fourth round of the US Open. Against No.42-but-more-dangerous-than-that Monfils, he rallied to level at one-set-all after falling behind a break in the second, but could not conjure a similar recovery in the third. Monfils served 14 aces to three, and finished with 37 winners to 26 unforced errors compared with Federer's negative ratio of 32-36.
The Swiss has had a testing year, failing to reach a grand slam for the first time since 2002, and his run of reaching 36 consecutive grand slam quarter-finals halted by a second-round loss at Wimbledon to lowly-ranked Sergiy Stakhovsky. Yet despite the difficulties of comparing champions from different eras, Laver considers him the greatest player of all time.
Monfils, too, was respectful, claiming Federer's recent results did not alter his approach. "A lot of people say, like, it's not the same Rog because he got two other great [players] with him, Novak and Rafa. A third one plays also very good, Andy (Murray).
"But when he's on the court, he's still Roger. He can rip it from anywhere. He can do stuff that not many player can do. When you go on the court, you just stick to your plan and just, okay, I'm going to challenge him. Then if you see the way, you took it.
"But I think we still have fear when we play against him. Just, you know, matters a couple point. Then maybe helps a little bit because you know he had a couple loss. So it's less fear, but still, you know, you're not going, 'OK, I play Federer, it's easy draw. No, definitely not.
"I think he miss a little bit more than he used to play because he used to play aggressive and maybe miss a bit less. Maybe I took a bit advantage of this. I know he will try and go for his shot, but maybe he is a bit less confident.''