Orlando Bloom kisses Miranda Kerr
October 26, 2013
via
BANG Showbiz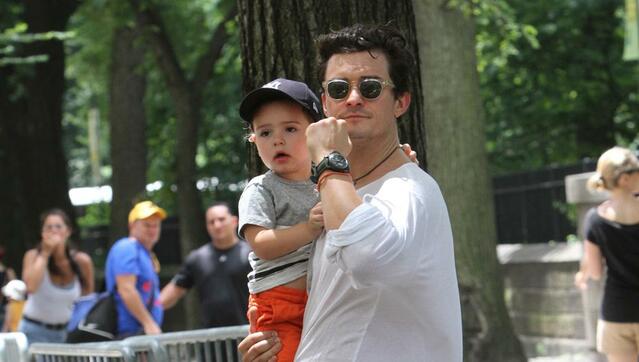 Orlando Bloom was spotted kissing Miranda Kerr on Saturday morning (10.26.13).
The 36-year-old actor, who announced he and the Australian supermodel have "amicably separated" on Friday (10.25.13), was photographed giving his estranged wife a quick peck on the cheek after they enjoyed a stroll with their son, Flynn, two, in Central Park in New York.
The former couple, who are no longer wearing their wedding rings, appeared in good spirits as they spent some quality time with their little boy, according to gossip website TMZ.com.
The British star previously insisted there were no hard feelings between him and the model, 30.
Asked if they are still on good terms, Orlando said: "We're not friends. We're family."
They were also spotted returning to the same apartment in the city separately on Friday night, just hours after they announced their split in a joint statement that said: "Orlando Bloom and Miranda Kerr have announced that they have been amicably separated for the past few months. After six years together, they have recently decided to formalize their separation.
"Despite this being the end of their marriage, they love, support, and respect each other as both parents of their son and as family."
The couple, who wed in July 2010, reportedly split up six months ago but only decided to announce it after Orlando gushed about his chemistry with his co-star Condola Rashad in the new Broadway production of 'Romeo and Juliet'.
He said: "We sometimes get applause after our first kiss because it just goes on. Sometimes I'm like, 'I'm not letting go.' "