Rugby League World Cup: Josh Papalii still basking in the glow of emotional debut
November 05, 2013
via
The Age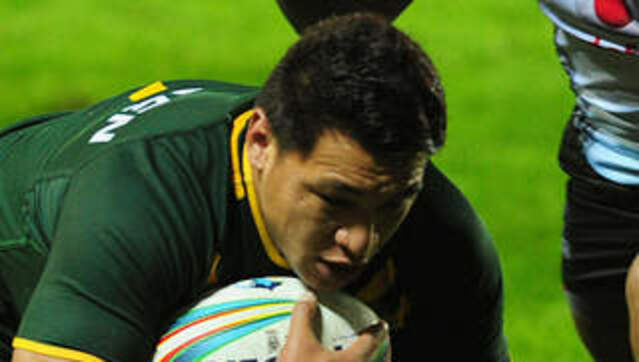 DUBLIN: Australian back-rower Josh Papalii believes his Test debut is the start of a "long road ahead" as he eyes a regular spot in the Kangaroos line-up.
Papalii will battle with fellow debutant Boyd Cordner for the spot vacated by Luke Lewis' serious shoulder injury. While Cordner is the more similar of the two to Lewis, Papalii's aggression is his strength.
The Canberra forward scored Australia's opening try from a Daly Cherry-Evans pass in a solid 61-minute Test debut against Fiji last weekend.
"A lot of credit goes to Chezza [Cherry-Evans]," Papalii said. "It was something we practised at training and we it pulled off. I didn't know what to do when I put the ball down. I was just speechless.
"The boys told me to keep going and that it was early in the game. No one got big-headed. They just wanted everyone to stay focused."
The emotion of his Test debut almost became too much for Papalii. The 21-year-old revealed he fought back tears while lining up for the national anthem at St Helens.
"It was pretty awesome; a very good experience," Papalii said. "I'm just overwhelmed and speechless.
"When I was standing there all I was thinking about was the game and that I really couldn't picture myself there.
"Singing the national anthem summed it up for me. My family find me as a little cry baby, I almost had a tear but it was too cold for crying.
"It sounds pretty cool [that I'm a Test player] but there is a long road ahead."
Papalii, who made his Origin debut for Queensland this year, was left stung by his first Test hit-up, and nursed a bruised cheekbone throughout the game.
"I just needed a little Band-Aid," Papalii said. "I had a head clash in my first run."
"I was still nervous at that time. I was all right, I've had worse ones before. This one was just a little one.
"I haven't played for a while. I'm carrying a bit of weight. I found it pretty quick and very physical.
"We were very happy with the win and now [we are in] Ireland and want to win there too."
The Australian team has enjoyed a few days off in Dublin before their next pool game against Ireland in Limerick on Saturday (Sunday, 7am AEDT).
Meanwhile, Lewis is expected to return to Sydney on Monday with Cronulla wanting him home to undergo shoulder surgery as soon as possible.