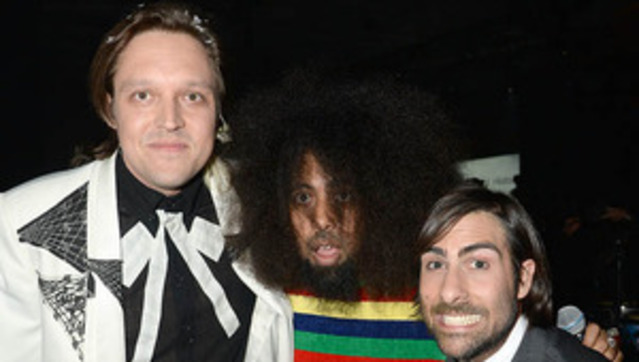 El pasado 3 de noviembre se llevó a cabo la primera entrega de los premios YouTube Music Awards, donde los usuarios de la plataforma de vídeos eligieron a los mejores del año, considerando tanto a artistas consagrados como los fenómenos de YouTube.
Tras la ceremonia, medios internacionales cuestionaron desde su transmisión hasta la selección de sus animadores. Según Variety, el show "se vio empañado por meteduras de pata de vídeo y sonido, y los conductores del programa parecían a la deriva cuando trataban de improvisar sin guiones", indicó el medio sobre el rol jugado por los anfitriones: el actor Jason Schwartzman junto al comediante Reggie Watts.
"Una comedia inesperada alcanzada a través de las entregas de premios y actuaciones", señaló Billboard.
La transmisión, realizada vía streaming, alcanzó un peak de 220 mil usuarios, muy distante de los 10,1 millones que sintonizaron la entrega de los MTV Video Music Awards, según Variety.
Entre los ganadores destacaron el rapero Eminem, quien recibió el galardón como mejor artista del año. En la categoría a vídeo del año, el premio se lo llevó el grupo coreano Girls' Generation con el vídeo I Got a Boy.
En la categoría innovación del año, el premio recayó en Destorm con el vídeo See me standing. Como fenómeno del año el reconocimiento fue para I know you were trouble interpretado por Walk Off the Earth y KRNFX.
El premio a la revelación del año fue para Macklemore junto al productor Ryan Lewis y la mejor respuesta del año fue para Lindsey Stirling and Pentatonix.
Las presentaciones fueron realizadas en vivo pero desde diferentes partes del mundo y en distintos escenarios. Lady Gaga apareció interpretando el tema Dope de su nuevo disco Art Pop, quien cantó junto a su piano y vestida con una simple camisa a cuadros y una gorra. Otra de las destacadas presentaciones estuvo a cargo del grupo Arcade Fire, que interpretó en vivo el tema Afterlife. Eminem también realizó su performance, cantando Rap God.
Para la crítica, los premios YTMA son solamente el preámbulo para el lanzamiento de un servicio de música por suscripción para fin de año.