Hapless Melbourne Heart faces crucial stretch to break dismal form
November 14, 2013
via
The Age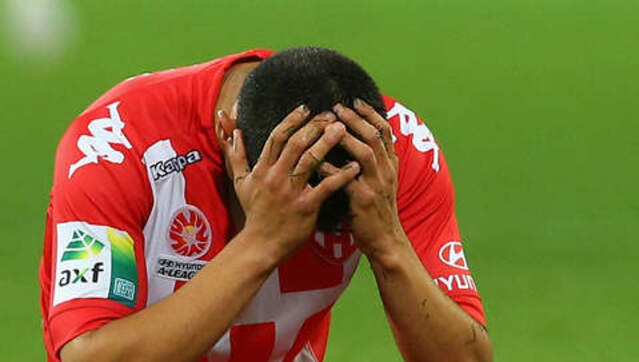 Five rounds in might be a bit early to be talking about a crunch period in the season. But for Melbourne Heart, the next three matches, beginning with its home clash with Sydney FC on Friday, could define the shape of its season.
Coach John Aloisi, on whom much scrutiny is now being focused, is not incorrect to talk about the opportunities his team manufactures and how strong the club's depth is, given that he has been without his two key players, Harry Kewell and Orlando Engelaar, for virtually the entire season. But the bitter truth is that Heart has not won a game since February, when, coincidentally, it beat Friday night's rival Sydney 3-1.
This season the dice have not been rolling its way. The draw has pitted it against the pace-setters. In its five games, it has played Melbourne Victory, Perth Glory, Brisbane Roar, Western Sydney Wanderers and the Mariners.
Aloisi's team faces a side that was struggling before its freakish win against Victory last weekend, it then travels to Newcastle before hosting Adelaide. Newcastle, in sixth position as round six starts, is the highest placed of those three sides. Aloisi admits the pressure is there.
''As a coach, you are always going to be questioned - what you do, the subs you make, the performances. All I can do is focus on preparing my team, and that's all I've done this week,'' he said. ''We know we are playing well enough to win more games. With a couple of wins, we will climb that ladder very quickly. We have got a lot of strong characters in our side and that will help in this situation.''
Aloisi may make one significant structural change on Friday by picking Nick Kalmar to start for the first time this season. The tall midfielder certainly offers something a bit different. He is likely to fill the No.10 slot vacated by Kewell, with David Williams, who has been playing there, moving to a wide berth, and Iain Ramsay on the bench. Mate Dugandzic could also land a spot.
''There is a good opportunity that Nicky might play. He's feeling good, he's feeling better; he showed that when he came on last weekend. Nicky gives us something different - he also has those midfield runs into the box, he's good in the air, and he's got a great through ball,'' Aloisi said.
''I am sure if he does play, he can give a couple of passes through to Michael [Mifsud] or our wingers.''
Aloisi believes Mifsud is ready to come good. But the coach is not happy about the lack of support he gets in the penalty area, suggesting that Heart's wide men could offer more of an offensive threat. ''The new players are getting to understand our style of play and the players who are here are getting to understand the movement of the new players,'' he said.
''Michael Mifsud is one of those players who is always scoring in training,'' he said.
''We could have done a lot better last week, we had 18 shots compared to their 11, but we could have had a lot more because of the dominance we showed.''